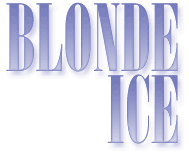 Among even the hardiest of film noir fans, the movie title Blonde Ice isn't likely to bring many looks of recognition. It's a relatively obscure film, cranked out in 1948 by Film Classics, which only produced a grand total of 12 films. These films were made to fill the bottom half of double bills. They were simple little B movies, with Edgar Ulmer's Pirates of Capri being the most widely known of the lot. When Peter Bogdanovich interviewed Ulmer in the '60s, Ulmer described a movie that sounds like Blonde Ice and said he wrote the movie's screenplay. We may never know for sure if the movie he was referring to is indeed the same Blonde Ice to emerge from Film Classics in 1948. Ulmer's name appears no where on the finished film. But Ulmer has become something of a cult director, with movies such as Detour and Bluebeard attracting the admiration of his fans.
VCI Entertainment is hoping fans of Ulmer will be intrigued enough by the release of Blonde Ice on DVD to give it a try. It's one of the more elaborate DVD packages that you'll find for a B movie. On this disc, you'll get audio commentary from film restoration consultant Jay Fenton, a stills gallery, noir related extras that have nothing to do with Blonde Ice, such as an episode of a long forgotten television show called "Into the Night," and brief biographies of the stars and filmmakers of Blonde Ice -- as well as a brief extra, "A Fascinating Possibly," that describes the Ulmer connection.
I have to admit this DVD sat on my shelf for several weeks before I finally picked it up and broke the cellophane. I'd never heard of the movie and the entire project seemed based more on wishful thinking than on any hard evidence. But not long into the movie the ghosts of Ulmer start floating about. The acting is merely adequate and the direction is severely hampered by the low budget (although director Jack Bernhard and cameraman George Robinson do manage a few surprising camera angles). But the screenplay is a deliciously nasty and audacious exposé on the twisted psyche of a truly lethal femme fatale. Claire Cummings is a gold digger with no conscious whatsoever. She's out for herself and if anyone gets in the way, well ... she packs a revolver and a sharp knife.
Claire Cummings is one of the most deadly femme fatales is the history of film noir, easily fitting alongside such other brutal dames as Phyllis Dietrichson from Double Indemnity, Kathie Moffat from Out of the Past, Annie Laurie Starr from Gun Crazy, and Vera from Edgar Ulmer's own Detour. Cummings isn't really capable of love. The closest she gets to it is poor Les Burns. She invites him to her wedding and then sneaks onto the balcony to let Les know she still considers him her main man. And when she kills her husband, who has threatened to leave her, she sets up Les as the stooge to walk in on the dead body.
The story is so playfully wicked it's easy to see why some people believe it's the work of Ulmer. It's a black spirited blast of vitriol, such as Ulmer's Ruthless or Detour. Clair is so wicked, particularly in how she treats Les Burns, whom she professes to love, that your jaw will likely sink to the floor. At one point she drops Les cold so that she can pursue a senator, even asking Les to introduce them. But Les knows what she has on her mind.
Unlike some of the B film noir classics, such as Gun Crazy, which benefited from the excellent performances of Peggy Cummins and John Dahl, Blonde Ice gets nothing more than capable actors. Leslie Brooks, who stars as Claire Cummings, was certainly attractive and her large eyes could become almost psychotic, making her an ideal villain, but she always seems to be reading lines. She never really inhabits her character. And Robert Paige, who plays Les Burns, is always such a good guy that the movie's amour fou never transcends the dreary set-bound locations.
Director Jack Bernhard is mostly known for directing the sci-fi disaster Unknown Island. Here he occasionally channels the stylistics of film noir, particularly chiaroscuro lighting. Characters are frequently cut to ribbons by the lighting, but the camerawork can most likely be ascribed to the skills of George Robinson. He had worked extensive for Universal in the '30 and early '40s, lensing Dracula's Daughter, Frankenstein Meets the Wolf Man, and Son of Dracula -- as well as several of the Jon Hall/Maria Montez fantasy films, such as Cobra Woman and Ali Baba and the Forty Thieves. But film fanatics mostly know him for directing the Spanish language version of Universal's Dracula. Robinson is the ringer here, and his camerawork helps make Blonde Ice look a cut above standard B movie fare. His camera dips low and swings around corners, finding surprising angles that help enliven the storytelling.
VCI's presentation of Blonde Ice is excellent, but this title is no doubt a tough sell. It contains no stars. It has a no-name director. It comes from an obscure B movie production company. But VCI plays up the Edgar Ulmer angle, using film historian/restoration expert Jay Fenton to help fan the flames of a possible Ulmer connection. If you can be convinced to give the movie a try, and if you know where to set your expectations -- because this is without a doubt a low-budget crime thriller with character actors in the leads -- you should have a fun time watching Claire Cummings as she proceeds to claw her way to the top.

---
Blonde Ice is now available on DVD from VCI Entertainment. Special features: commentary by film restoration consultant Jay Fenton, video interview with Fenton, a short article about the movie's possible connection to cult director Edgar Ulmer, a photo gallery, bonus film noir trailers, an episode of the TV series "Into the Night," a short musical feature titled "Satan Wears a Satin Dress," and biographies/filmographies of the principal actors/filmmakers. Suggested retail price: $14.99. For more information, check out the VCI Entertainment Web site.

---
Photo credits: © 2003 Blair & Associates, Ltd. All rights reserved.