It is not quite clear why there should be a New York Film Festival. I wrestled with this question in these pages last year and finally came to terms with the inevitable: there's a Film Society with something to show for its funding, there's the sold-out auditoriums, and—why not?—there's a few good movies. So what if most of the movies have premiered elsewhere first and will be playing at your local art house (or even multiplex) in a month or two? As long as there is thirst, it needs to be slaked.
This year the conclusion is less clear. The Film Society is still there, and so is the thirst: the shows are sold out. It is a little tougher with the movies, though. First, the geography of the selection seems to be shrinking: France, with eight entries (and three Third World entries co-produced by the French), still reigns supreme. Of the rest, there were Names: Mike Leigh (at his most yawningly didactic), Pedro Almodovar (at his raciest gay ever), and Ingmar Bergman (at his most… more on that later). As suggested by the NYFF fare, no worthy films seem to have been made elsewhere in Europe, East or West. Now, this may be true—I have not traveled much this year—but it still looks fishy. Did the Election have something to do with the Selection? Hard to say. On the Upper West Side, where the festival takes place, the "most important election of the (month, ratings season, century—insert your own time unit)" is, pardon the pun, never out of the picture, with Kerry campaigners grabbing anyone who as much as slows down—thus killing all opportunities for a quiet stroll.
You can't always tell a book by its cover, but you can tell a lot about a festival by the opening act. This year, it was Agnès Jaoui's Look at Me (Comme un Image). Ms. Jaoui's first film, The Taste of Others, inspired little optimism, and the second was more of the same—another home movie for the Parisian intello set, where everybody is an artist, knows everybody else (and no one else), and all try to use one another, always with perfect excuses. The story—an egotistic famous writer; his overweight daughter, a wannabe actress/singer low on self-esteem; and their friends and lovers—seems passé for an American audience, whose natural response would be to dispatch the whole bunch of them. This is the kind of film that could have been done by Woody Allen—and has been, many a time, with far more both depth and panache than Ms. Jaoui is capable of. I can understand the yearning of American urban intellectuals to live in a place where famous writers are recognized on the street, but to an outsider this Paris is as real as that of Amelie—and it's far less entertaining. Another source of yearning is political—if Upper West Side was as influential in US politics as certain Paris arrondisements are in French, Democrats would never have to leave the White House.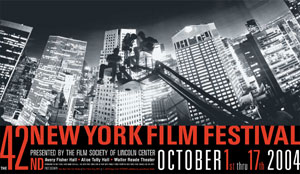 The NYFF poster. Photography by Jeff Bridges.
The rest of the French entries fared not significantly better. There was The Tenth District Court: Moments of Trial, a documentary about a day in, well, a Parisian court, which properly belongs on PBS. There were two films by les maitres: 84-year-old Eric Rohmer weighed in with Triple Agent and 74-year-old Jean-Luc Godard, with Our Music (ok, Notre Musique—hell, he is Godard). The former was a massive disappointment. God knows why Rohmer abandoned the world of little pleasures and upsets of French middle class for that of Russian émigrés between the wars, done with a Le Carre twist, but it doesn't work—not for one minute. The story itself is too well-known to people interested in the KGB operations against White Guard émigrés, and of little interest to those who are not. Mr. Rohmer's trademark talkathons, delivered in jarring accents, suddenly feel leaden and direct us to no revelations.
Aesthetically, Godard has been preaching to the choir for a long time and sees no reason to change. He keeps doing his thing: roaming around, getting on both sides of the camera, using fellow celebs, tinkering with "found objects," and issuing grand pronouncements about every capitalized concept in universe. This time around, the "story" (pardon, maitre, they forced me to use the term) of two Jewish girls—one from Russia, looking to die for a cause, and one from Israel, trying to live for one—who separately meet Godard in Sarajevo is no less political than usual, but, unlike too often before, this time he genuinely grapples with the contradictions of the modern world. And yet you really want to go and see Pierrot Le Fou or Bande A Part once again—each a piece of seventeen-carat nostalgia…
Unlike Jaoui's film, Arnaud Desplechin's Kings and Queen at least travels outside Paris, and, unlike Godard, has a real story of a crazy violist (a stereotype, but at least an entertaining one) and his self-content ex-lover living in parallel universes. This is an eminently decent, sensitive melodrama, livened up by no-holds-barred performances by Mathieu Amalric as the violist and Emmanuelle Devos as his ex. And the final (penultimate, to be exact) scene between the violist and his ex's son is exemplary. Yet woe is to a festival where the most watchable French movie is made by a merely decent director like Desplechin.
Of the three French co-productions (one with Korea, one with Egypt, and one with Lebanon), the less said, the better. The Korean one, Woman is Future of Man, is a series of wanderings of the three characters trying to find out what went wrong, shot in a typical diffident screw-the-clarity manner of someone who spent too much time at an art school. The Lebanese one, In the Battlefields, is a touching but ultimately banal portrait of a middle-class Beirut family in the middle of the civil war. Sincerity is good, but it is a poor substitute for art. What qualified the two for NYFF besides the association with the French is anyone's guess.
Speaking of the Old Masters such as Rohmer and Godard, I might as well mention their contemporary, the 85-year-old Ingmar Bergman, whose latest film (last, he says), Saraband, was included in the program. It is a stately sequel to Scenes from a Marriage, with Liv Ullmann, 65, and Erland Josephson, 81, playing Marianne and Johan with age-conquers-all confidence. This time the scope has been expanded to include Johan's son and granddaughter, introducing the generation conflict, which is explored with Bergman's usual unflinching emotional honesty. Everything about this film is in perfect taste—intelligent dialogue, gorgeous interiors and exteriors, a first-class soundtrack (Johan's son and granddaughter are both professional cellists). I was wondering why I didn't like it more than I did. Perhaps, like many people in this country, I have been brainwashed by Hollywood into seeing old people as unconsciously wanting to be young (Cocoon is the best example, and there are many others). There is little dignity in aging in America, and Bergman's film provides a useful counter-perspective, with a bleakness that is not always easy to take.
Of the many entries from the Far East, I should single out two. Jia Zhangke's Platform, a portrait of China in post-cultural revolution era shown through the eyes of a traveling artist troupe, played at the previous festival and briefly appeared in national distribution. This year's entry, The World, was just as ambitious, exploring China's place in the world through the eyes of the employees of Beijing's Epcot-like theme park. Once again Mr. Zhangke shows confidence and extraordinary sensitivity in working with an ensemble of young actors, all of whom perform convincingly. But the picture tries to go too many ways at once and keeps losing focus. A much superior Chinese film—the film I enjoyed the most at the festival, period—came from the (now) veteran Zhang Yimou (Raise the Red Lantern, etc). There has been much speculation, some of it political, why Mr. Yimou switched from hard-hitting dramas like Lantern and To Live to epics like Hero and this year's House of Flying Daggers. But there's no doubt that he is one hell of a director. On the face of it, House is a standard historical drama, complete with a love triangle and plenty of sword-fighting; yet from the first to the last frame, it holds the attention and engages all the senses like no other film presented. The stunningly photographed battle in the bamboo forest alone is worth the price of admission. Creeping Tiger better watch out.
After such disappointing imports, I was really looking forward to the domestic product. Todd Solondz (Happiness)! Alexander Payne (Election)! More disappointment… From Welcome to the Dollhouse to Storytelling, Solondz has proven himself to be our most fearless director, and those who concentrated on his swiping at the canon of political correctness may have overlooked his directorial skills. Solondz may become our Woody Allen of suburbia (he even resembles Woody physically a little); all he needs to do is grow up and reach out for a larger theme. Unfortunately, he has not done it in his latest. Scene by scene, Palindromes sparkles and stings with hilarious satire, but, once I left the theater… nada. Just as Storytelling became known as "that movie where they put a red rectangle on the guy's back" at the expense of everything else, Palindromes will be referred to as the movie where the 13-year-old Jewish protagonist (it is in a way a sequel to Welcome to the Dollhouse) is played by eight actresses of various ages and skin colors, including Jennifer Jason Leigh and the biggest black woman I have seen on the screen in a long time. Everything else will be ignored. But if in the former case Mr. Solondz can blame US censors, who found Storytelling too racy, this time around he has no one to blame but himself.
If Jaoui's opening film was in some measure a reflection of this year's program, so was the closing one, Alexander Payne's Sideways, about to come out in national distribution. With Election and About Schmidt, Payne raised expectations of his future work like few US directors. There's nothing wrong with Sideways per se: it is an intelligent, funny, tasteful (very) story of two friends going on an extended week-long bachelor-party around Santa Barbara wineries, and the recently ubiquitous Paul Giamatti has a ball playing a failed novelist in Southern California (by itself, a description abundant in black humor). It is a perfect middle-age urban date movie. You will ooh and aah over the dessert later. You will score. And you will forget all about the movie the next day. Alas…
---
Festival Web site: The 42nd New York Film Festival

Photos courtesy of the 42nd New York Film Festival.