The Wonders take to the road as part of Play-Tone Records Galaxy of Stars.

(©1996 20th Century Fox)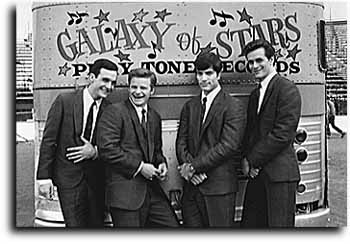 But the movie is much more than just one catchy song. Hanks gives us a band that we can really care about. We see Guy in the sterile environment of the appliance store, showing customers washing machines and vacuums, and we long for him to breakaway. But at the same time, the movie doesnít go gunning for any easy targets. For example, Guyís father (in a wonderful performance by Holmes Osborne) might be strict and expect his son to follow in his footsteps, but he isnít a tyrant. He might rant and groan about the low prices at Tele-Mart, his big time competitor, but heís still a genuinely loving father.
The band members are a bemused bunch, totally surprised by their instant fame and never completely shaking a sort of "gee-whiz" attitude to everything they see. Johnathon Schaech plays Jimmy, the bandís leader. And Liv Tyler plays Faye, his girlfriend, in a wonderful, girl-next-door performance. Steve Zahn plays the bandís goofy guitar player. And Ethan Embry plays the always out-of-it bass player. We see them as they go crazy when their song first gets played on the radio, and we see them as their manager, Mr. White (Tom Hanks), barks out orders, "Any questions? Donít ask." In the process, the band members become our close friends. We cheer their successes and moan at their failures.
That Thing You Do! is a sweet-spirited, loving look at the past, gently crafted by Hanks. He clearly likes the characters he created and wants us to like them also. In addition, Hanks gives an excellent performance as the bandís stern manager thatís nothing like anything heís ever done before. At times the drama becomes a shade too predictable, with the camera keying us to important moments and robbing the story of subtleties, but even with its shortcomings, That Thing You Do! is a joy to watch and gives great hope for Hanks' career behind the camera.
---


A 20th Century Fox Production