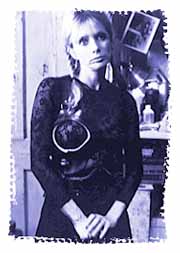 Instead, Crash is all about surfaces. It's about the reflection of blue light in polished metal. It's about the strange beauty of horrible scars. It's about shattered shards of glass and bloodied foreheads. And it's about the glisten of semen-smeared hands. Cronenberg takes us into this world of ugly/beautiful mangled automobiles and human bodies, using a camera that prowls and insinuates the viewer as a potential automobile fetishist--but he fails to give us any context, any larger world. As a result, we don't know why Spader becomes an auto fetishist. We don't know why Hunter becomes similarly obsessed. We don't know why Unger allows Spader to pull her into this world.
Nonetheless, Cronenberg still provides some astonishing images that are certain to haunt you for weeks, maybe months, maybe years. Particularly powerful is a scene where Elias Koteas leads a reenactment of the famous James Dean car crash. On a deserted back road, he plays the master of ceremonies, describing the accident cars in loving detail to an audience that sits in the shadows and eagerly awaits the impending head-on collision. And to ensure "the ultimate in authenticity" the test drivers wear no crash helmets or padding of any kind.
In another scene, Koteas tries to cut Unger out of traffic. He threatens her small, sporty car with his huge Lincoln Continental, riding on her tail, swerving within inches of her bumper. He's like a lion trying to cut an antelope out of a herd. It's a scary and unsettling scene.
At other times, Cronenberg twists the sexuality to such perverse extremes that he's guaranteed to send many audience members running for the exits. The movie's non-stop barrage of couplings includes a woman fucking a virtual stranger in the back seat while her husband drives them down the street (and through a car wash!), a man struggling to have sex with a woman whose legs are encased in braces, a woman-on-woman encounter in a junkyard of battered automobiles, a man-on-woman encounter in a crowded airport parking lot.
But unlike another movie about accident survivors, Fearless, where Jeff Bridges and Rosie Perez played the survivors of a jet crash, Cronenberg doesn't let us inside the characters' pain so that we can understand their obsessions. Whereas Fearless examined the guilt and confusion that threatened to destroy the survivors, Cronenberg opts for sensationalism instead, as if auto accidents are "fertilizing" events--not destructive ones. Crash is a ludicrously superficial but gorgeously designed movie that tries to lure its audience with seductive, voyeuristic camerawork. But Cronenberg is so enamored with the surface allure of his creations and the perversely seductive atmosphere that he hasn't bothered to explore the implications of the characters.
---


A Fine Line Features Presentation