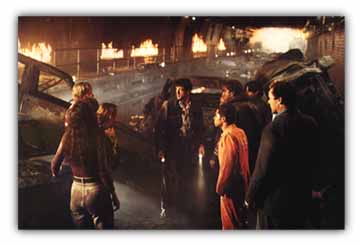 Daylight has its share of goofy moments and surreal dramatics, but it never really transcends the situations--maybe because it doesn't have a big, all-star cast, as do all of the aforementioned disaster movies. For example, it's one thing to see Claire Bloom (as we do in Daylight) holding her breath and swimming underwater and it's something else entirely to see Shelly Winters (as we did in Poseidon Adventure) trying to pass muster as an ex-swimming champion, bloated and waterlogged while flailing through underwater passages.
Ultimately, even the action scenes themselves become predictable and a bit boring. The water keeps rising. The characters move forward. They bicker with Stallone. He says lets do this. They follow him. They bicker some more. More water gushes on everyone. No one in this movie experiences anything remotely like shock. They're all too busy chatting and complaining. "How many grandchildren do you have?" "Three. Would you like to see their pictures?" Yeah, and you're surrounded by the charred remains of several hundred motorists!
Daylight contains a few remarkable images, such as Stallone going mano a mano with several big ventilation fans and Stallone desperately trying to hold onto a woman before she gets sucked away, but that's about all this movie has to offer. The characters emerge as little more than irritants who frequently get in the way of the action sequences while they're being herded out of the tunnel.
Too bad they didn't let the disaster genre rest in peace.
---


Universal Pictures Presents