Diane Keaton and Meryl Streep in Marvin's Room

(©1996 Miramax)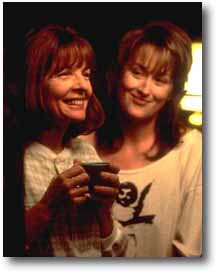 Television producers could learn from this movie; television usually approaches illnesses from one of two vantage points: either as an opportunity for sleazy exploitation or as a reverent, inspiring (i.e. superficial and phony) picture of human dignity. Director Jerry Zaks takes a different approach and shows the people behind the illness, letting the drama grow from their relationships, and throwing in some (thankfully) relieving doses of black comedy.
Marvin's Room tells the story of a family destroyed by illness. Diane Keaton, as the older sister Bessie, gave up her life aspirations to stay at home and care for her bedridden father (Hume Cronyn), while her sister Lee (Meryl Streep) left home to pursue her own life. But now Bessie discovers she also has leukemia, so the family caregiver now needs help of her own. And who can she turn to? Lee has a dysfunctional family, with a resentful older son (Leonardo DiCaprio) not averse to setting house fires. "Hank is not something I can control," she says, so she barks orders at him constantly while his anger grows. Bessie hasn't seen or spoken to Lee (or even received a Christmas card) in over 17 years. But she has nowhere else to turn. So Lee, in a rare moment of courage for her, bundles her own unruly family into the station wagon and takes off to help Bessie in Florida.