The entrance to the "Super- stition" exhibit in The Relic

(©1996 Paramount. All rights reserved.)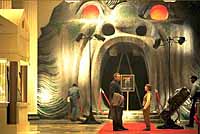 Because The Relic boils down to a simple monster movie, the best way to talk about the movie's deficiencies is to talk about the monster so BEWARE--SPOILERS AHEAD--continue reading only if you don't mind finding out about the monster.
The creature for The Relic sounds great in theory: an evolutionary hybrid that's part gecko and part beetle, and part several other species. Thanks to some jungle leaves that contain a super strong concentration of chemicals, an evolutionary process gets kicked into high gear and before you know it, a demonic force is unleashed on the world. Okay, that actually sounds sort of stupid. But here's the interesting part: the creature began as a man and a large part of the creature is still humanoid.
So in The Relic, we get a creature smart enough to know how to disable all the electronic surveillance equipment in the museum. We get a creature that . . . wait, just what effect do the human genes have on the creature? Well, there's the big let down. Some of the great creatures in the history of horror became great by showing the tragedy behind their characters. Frankenstein's monster as played by Boris Karloff was still a recognizably human creature and not just a hulking, murderous brute. Part of the horror of that movie came from seeing the monster's horrible misunderstandings, such as when it drowns a little girl.