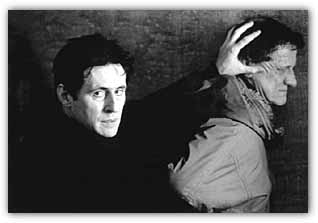 Smilla's Sense of Snow works best when it focuses on the character of Smilla. She is a truly intriguing and complex creation, but the movie fares less well as the story turns more to action-suspense. Smilla becomes much too resourceful for her own good. She becomes an expert pickpocket to grab an attorney's wallet and she pushes over bookshelves to ward off a pursuer and whacks him in the head with a flashlight. She takes evidence to an expert for analysis, and in cliched fashion, the expert gets killed. We even get scenes with Smilla using a dumb waiter to do a little undercover work. The further we get into the movie, the more routine and predictable it becomes. And that's a shame because the early scenes are intriguing and mysterious, creating a quiet mood of desperation and alienation. But as the movie develops, the plot contrivances become sillier and noisier. Eventually the contrivances overwhelm the movie.
Gabriel Byrne is also on hand as Smilla's neighbor, but anyone familiar with the plot patterns for mystery-suspense movies can easily guess what he's up to. Richard Harris plays the tycoon owner of a mining company. The movie leads us toward the inevitable confrontation between Harris and Ormond, but the scene is a big let down. All we get is Harris reciting some plot points that the movie has already revealed. Vanessa Redgrave gets little more than a cameo role as a former employee of Harris's mining company who helps point Smilla in the right direction. Redgrave plays an eccentric character, but like the other characters in the movie, the nice eccentric touches are still in the service of a tediously conventional yarn.
Director Bille August (Pele the Conqueror) has fashioned a wonderfully atmospheric movie with a marvelously complicated central character from fellow Dane Peter Hoeg's best-selling novel, but ultimately the atmosphere and characterizations are in the service of an overly-plotted story that stumbles toward a conclusion. As the movie lurches back to the glaciers of Greenland, the terrifying steel-blue atmosphere makes way for some half-baked sci-fi revelations. Instead of focusing on Smilla and her emotions as she returns to her homeland, the movie becomes a simple action movie. This is the first time Smilla has been back to Greenland in twenty years. How does it affect her? What does she feel as she hikes over the glaciers? Smilla's Sense of Snow becomes mute on these issues and reveals itself to be little more than an ordinary, superficial thriller done-up in art house trappings.
---


A Fox Searchlight Pictures Presentation