Austin Powers (Mike Myers) and the Fembots.

(©1997
New Line Cinema. All rights reserved.)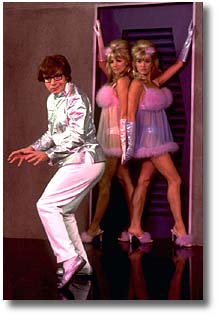 I loved the silliness--thanks to the retro designs of production designer Cynthia Charette and the outrageous visual humor of director Jay Roach and photographer Peter Deming (who also photographed Scream and Lost Highway). However, Austin Powers never really becomes much more than a shaggy dog story. Most of the scenes seem incomplete, as if the big punch lines are missing. Even some of the funniest scenes never seem to really hit much of a peak. As a result, some of the simpler scenes end up working best, as when Austin's assistant (Elizabeth Hurley) sums up Austin's personality "that's you in a nutshell" and Austin says "No, here's me in a nutshell--HELP! I'm in a nutshell!" Or an hilarious scene when Austin picks up his personal effects after he is thawed out and the guard calmly places a penis enlarger on the counter: "That's not mine, baby!" says Austin. But even if Austin Powers remains little more than a shaggy-dog story, it's a damn funny shaggy-dog story. And I loved those Fembots.