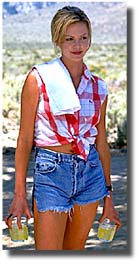 As long as the filmmakers stick to courtroom scenes and scenes between Ricky and Charlie, Trial and Error is a very funny movie. Richards has spent the better part of a decade honing his bemused-but-confident shtick as Kramer, and he has the role worked to perfection. Ricky initially just wants to get the case over with. He sees it as "a walk-on." But before he knows it, the role has turned into the biggest of his career. While Charlie uses flash cards to signal Ricky what to say in court, Ricky frequently takes off on his own, not being able to resist milking the spotlight. "You've got your style, I've got mine," he says to Charlie.
Richards brings a charming brand of na´vetÚ (mixed with bravado) to these scenes. His face is part little boy and part "hipster dufus" (don't tell Kramer I said that). He always means well but he just can't help himself. Some things are just too tempting.
Meanwhile, Jeff Daniels actually gets most of the pratfalls. With movies such as Dumb and Dumber to his credit, Daniels has quickly become one of the best physical comedians in Hollywood. In Trial and Error, Richards actually is more restrained than Daniels. While Richards must remain relatively composed as Ricky Rietti, Daniels gets to show us Charlie falling apart. As Ricky continues to guide the case in court, Daniels becomes a ball of raw nerves, ready to explode at his own impotence. It's a very funny performance.
Unfortunately, however, the screenwriters decided they needed a "plot" to help tie everything together and provide a way for the characters to grow. So they give the movie a trio of painfully shallow female characters. We get 1) Charlie's fiancée, a rich bitch who constantly haggles with decorators and caterers about her upcoming wedding, 2) an angelic, forever-forgiving waitress who falls for Charlie and shows him the possibility of a simpler, less hectic life, and 3) a scrappy prosecuting attorney who just wants to put a criminal behind bars, but finds herself attracted to Ricky. Well, woman #1 has to be a bitch so that Charlie has an excuse for changing his life. Woman #2 has to be perfection personified so that Charlie will be willing to give up everything for her. And woman #3 has to be there so that Richards can get paired with an unlikely partner. Alexandra Wentworth is good as Charlie's fiancée and Charlize Theron as the waitress is so damned cute you'll just want to give her a big hug, but their roles have little depth and only exist to shove forward a creaky, predictable story. Meanwhile, Jessica Steen's prosecuting attorney role has some meat to it, but she's only there so that the mechanical, romantic subplot with Ricky can blossom.
Director Jonathan Lynn, who also directed another very funny courtroom movie My Cousin Vinny, handles the comedy like an old pro. He directs with an understated style that works well in opposition to the frantic comedy. Part of the pleasure of the movie is the calmness that surrounds the actors, while we know everything is actually ready to explode.
If only the filmmakers had relied more on the characters of Charlie and Ricky, and less on the plot contrivances, Trial and Error could have become a great comedy. As is, we get idealized women--an angel, a bitch, and, literally, a dream-like vision of a perfect lawyer--and the idealization only blunts the comedy.
---


A New Line Cinema Presentation