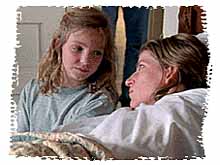 As in Sling Blade, the threat of violence hangs over the movie and supplies an ongoing sense of suspense. Even while we watch Ulee simply caring for the hives as he strives to bring in a load of rare tupelo honey, the threat of violence gives the small actions a special brand of resonance, a more finely honed sense of being, as if every action now has greater importance because it could be the last for Ulee and his family. And the omnipresent threat of bee stinger against naked flesh also adds an element of caution to many scenes. I don't know if I've ever been in a quieter theater than when Ulee was harvesting honey.
When the movie starts, Ulee confidently spews out his law to his family, but once he is thrown into the role of restoring the family, he begins to see how complicated life can be. He either can be a hard man and allow his family to continue falling apart or he can become malleable and save his family: "I'm just realizing I don't know enough about anything to say nothing," he says. "I've forgotten how to deal with new things . . . you know, new feelings, new people."
But like his namesake, Ulysses (of Homer's The Odyssey), Ulee is on a voyage home. Physically, he has been at home, but emotionally he has been far removed. Ulee's Gold takes us on a poignant and emotional journey as Ulee reclaims his family and restores his life.
Director Victor Nunez is slowly emerging as one of the most interesting filmmakers in America. His Ruby in Paradise (1993) starring Ashley Judd gave us an insightful portrait of a young southern woman's personal struggles. (His other movies include A Flash of Green with Ed Harris and Gal Young 'Un, 1984 and 1979 respectively.) His style of filmmaking eschews the razzle dazzle of Hollywood filmmaking and focuses completely on the main characters and how they survive. This quiet, gentle approach to filmmaking reveals his own intense fascination with people and how to tell stories about characters we might otherwise pass right by without noticing. His keen observation of everyday life is remarkable and Ulee's Gold is a marvelous movie.
---


An Orion Pictures Release
Jonathan Demme Presents
A Nunez-Gowan/Clinica Estetico Production