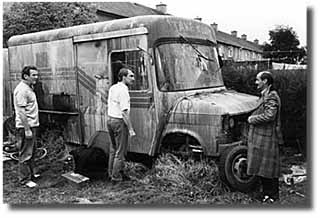 And before long the van is a roaring success. However, it soon becomes an uneasy working relationship. For starters, Larry likes to insult customers and anyone else within earshot. But then Bimbo puts Larry on a salary, which Larry interprets as the ultimate insult. He sees himself as a hired worker again. From then on, the friendship is on rocky terms, with Larry growling and acting surly.
The first two thirds of the movie is excellent and easily the equal of The Commitments or The Snapper. At times The Van even recalls the wondrously optimistic atmosphere that director Alan Parker created in The Commitments, as when Bimbo buys the van and Larry and Bimbo push it home while hordes of curious neighbors follow them. "What have I gotten into!" shouts Larry.
However, as the relationship between Bimbo and Larry becomes increasingly strained, the movie starts to sputter. Part of the problem is their relationship was never built on a strong emotional bond. It was a relationship of convenience instead--someone to play golf with, someone to drink beer with, someone to pick up women with. We are supposed to believe they are close friends, but the movie never makes a good case for their closeness.
Colm Meaney is a wonderfully charismatic, "everyman" type of actor. (He also starred in both The Snapper and The Commitments.) Even while he sulks about being a hired hand again, he can still make Larry a fun character to watch. But as the story veers toward its conclusion (which I won't reveal) and Bimbo makes a big sacrifice to save his friendship with Larry, the effect falls flat and fails to become convincing. As a result, a large part of the audience will probably side with Bimbo's wife, Mary (Caroline Rothwell), who doesn't really like Larry. The Van is two-thirds of a good movie, but because Larry and Bimbo's friendship was always superficial, the movie's last third becomes hollow.
---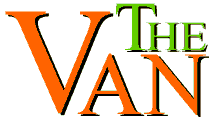 A Fox Searchlight Pictures Presentation