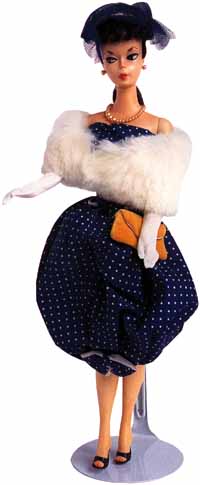 I recognized that was the first thing right with Barbie. Barbie is an adult doll, not a baby doll. She may, in fact, be the first adult doll. And, what an opportunity for a young girl to exercise her imagination! A baby doll only offers a child the opportunity to mother it. And, even though today's baby dolls do everything from eating and drinking to excreting, even chewing when we'd rather they not, you cannot create a complex social history for a baby doll. Offering our daughters the opportunity to play at mothering is certainly an acceptable choice, but it's only one option.
Barbie, on the other hand, allows a young woman to dream about all the possibilities open to her. Barbie can be a doctor, an astronaut, a banker or lawyer, a flight attendant, a fashion designer, a nurse, a gymnast, a horse-woman, a whale trainer, a veterinarian, a personal trainer, an Arctic explorer, a teacher, a circus star, a nightclub singer and now, a member of the Star Trek crew.
As a longtime fan of all things Star Trek, I must admit I just purchased the Star Trek Ken and Barbie, brought out for the 30th anniversary of the original series. Because the show first aired in the 1960's, when miniskirts were in style, Barbie wears a very short-skirted red uniform and sports a close approximation of the Yeoman Rand hair style and color. However, the people at Mattel are not fools, and the back of the box points out that Barbie's red uniform means she is a member of the ship's engineering section and a Lieutenant. Alas, Ken wears a gold uniform and is a member of the Command division.