1980

Scott subsequently made a film in Canada called The Changeling (1980), directed by Peter Medak, a combination ghost story/mystery thriller. Scott plays composer John Russell, trying to rebuild his life after his wife and daughter are killed in an auto accident. "My wife, Trish (Van Devere) and I did it in Vancouver. It won several Canadian film awards. I enjoyed the character, and it was nice to work with Melvyn Douglas - that was his last film."
Also that year, Scott worked with another veteran actor, Marlon Brando, in The Formula, scripted by Steve Shagan from his novel of the same name, and directed by Rocky's John G. Avildsen. "That was filmed in Germany," Scott said. "I enjoyed working with Brando. He's a very sweet-natured man, and a very funny man. It's a shame that his personal life is kind of a shambles right now. Who knows what will happen with that."
1981

In 1981, Scott played the small but pivotal role of retired General Harlan Bache in Taps, giving a memorable performance as a man nostalgically obsessed with the military life. The film featured early performances by Sean Penn and Tom Cruise. "Yeah, Harold Becker (the director) asked me to do that part for him. He also later asked me to do a very small part in Malice (1993)."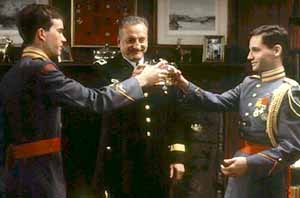 George C. Scott with Timothy Hutton and
Brendan Ward in Taps.
1984

One of the actor's most recent memorable television roles was in 1984's A Christmas Carol: "I didn't want to do it, because of Alistair Sim's version--that seemed to be the definitive version--but I found a (different) way to approach the character. I decided that he was the loneliest man in the world, and that's how I played him."
Scott is not particularly fond of his next movie, Firestarter (1984), directed by Mark L. Lester. Scott is excellent, though, as sinister assassin John Rainbird: "I didn't care for that picture too much. It's one of those half-assed, sci-fi, Stephen King things. I did it to work with Marty Sheen, who's a good buddy of mine. The part was fun, though. I had a glass eye made for it."
1990

The actor has similar contempt for his next theatrical film, The Exocist III, written and directed by William Peter Blatty from his novel, Legion. Scott plays the role of Detective Kinderman, played by the late Lee J. Cobb in the original Exorcist (1973). "Peter Blatty asked me to do it, I guess. I didn't like it, though. I'm not too fond of those occult pictures." Scott later provided the voice of the villain, McLeach, in Disney's The Rescuers Down Under (1990). In addition in 1990, Scott appeared in a made-for-cable movie, Descending Angel: "That was filmed in Toronto, with Eric Roberts, and a very nice girl named Diane Lane."
1993-97

Scott's most recent theatrical film performances include the aforementioned Malice (1993), as Dr. Kessler, and as Ivan, a feisty grandfather, in Angus (1995). He also continues to work on stage and for various television productions. "I just did a new version of 12 ANGRY MEN that's going to be on Showtime, for (William) Friedkin," Scott said. "Jack Lemmon's in it, Tony Danza, Ossie Davis, William Peterson, and Armin Mueller-Stahl. I also recently did Inherit the Wind on the New York stage. I've always tried to go back to the stage. I'm 69 years old, and still working."
Perhaps the recent resurgence of character-driven films, as exemplified by the strong presence of independent films at this year's Academy Awards, will provide more theatrical film opportunities for one of our finest living actors. When audiences tire of empty-headed plots and visual razzle-dazzle, they may yet welcome the return of competent scripting and excellent performances.
---

You can move through the article by selecting "previous page," or you can go to the George C. Scott filmography and select a specific movie.

---
page 5 of 5

---
Paul Riordan has written about film for several magazines, including Monsterscene and Filmfax
© 1997 Paul Riordan. All rights reserved.