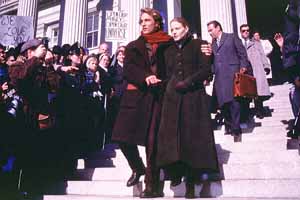 Meanwhile the central goofiness of the movie's plot gets a portentously important treatment--particularly the political developments, with Ellie attending meetings and conferences with President Bill Clinton, who becomes seamlessly part of the action thanks to the same morphing technology used for Forrest Gump. But unlike Forrest Gump, where the humor helped relieve the goofiness of the situations, Contact never recognizes its own goofiness. Instead we get simple-minded characters talking about the impending voyage in ridiculously somber tones. James Woods becomes the purely evil politician who wants to militarize the project. Rob Lowe stands in the religious far right. Tom Skerritt becomes a two-note character who always ends up stealing the limelight from Ellie. John Hurt is an eccentric millionaire who watches the entire endeavor carefully and occasionally gives Ellie advice.
Zemeckis gives us a rocket load of painfully shallow characters who mouth potentially complex ideas. Matthew McConaughey as an author of best-selling religious books is the worst of the lot. He threatens to sink the movie every time he shows up and starts intoning the value of faith vs. the empiricism of science.
After Ellie uncodes the radio message from Vega, the government begins plans to build the machine described in the message. Ellie sees herself as the ideal candidate for testing the machine, but now the government is involved and many other people vie for the honor. We learn in excruciating detail about Ellie's competition for piloting the machine. But where does all the competition lead? Nowhere. As a matter of fact, the movie is the same with this subject cut out in its entirety. In fact, the movie doesn't need this sort of simple-minded hyping. The situation is ripe enough already with suspense.
Instead, I wish the filmmakers had spent more time figuring out what would happen when Ellie tests the machine. All we end up getting is a retread of 2001 with some liberal doses of vintage Star Trek and even a little bit of Field of Dreams. Ellie's trip becomes a big disappointment because we've seen it all before elsewhere.
Contact plays out as a dreadfully overlong but occasionally enthralling movie that milks all the material for melodrama and ends up giving us an over-hyped, over-serious dinosaur of a movie. Ultimately, Contact is about Ellie and what she finds in her voyage; everything else is dross. The movie is given an epic-scaled treatment to justify the special effects, but Contact is really a small, personal movie. The politics and discussions of science vs. religion are just window dressing for an essentially simple but poignant movie about a woman's spiritual quest for human contact in the most unlikely of places. Somewhere buried under the simple-minded philosophizing and the turgid melodramatics lurks a great movie. But unfortunately the same filmmaking that worked for Forrest Gump only confuses the issues here and gives us a cumbersome but occasionally inspiring movie.
---