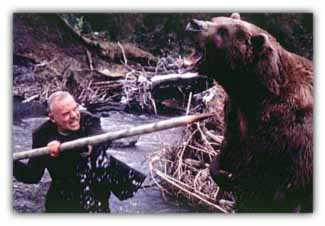 Anthony Hopkins battles a killer Kodiak bear
in The Edge.
(©1997 20th Century Fox. All rights reserved.)
For a movie filmed in great open spaces, The Edge is one of the most claustrophobic movies you'll ever see (in the tradition of great claustophobic movies, such as Das Boot). Cinematographer Donald McAlpine places his camera up close to the actors, rarely backing away for long shots. He locks us into the battle between the two men. And when the bear shows up, the claustrophobic close-ups will make you feel the hot, heavy breath of the bear as he lunges at the camera. Director Lee Tamahori (Once Were Warriors and Mulholland Falls) plays the entire movie in close-ups, with the effect of making us feel the desperation and anguish of the lead characters. We aren't just passive observers. Tamahori's use of the camera thrusts the audience into the action, hitting us with an icy spray and thrashing us with pine branches. When the camera does deliver long shots, Tamahori feeds us stunningly desolate, nearly-vertical mountain faces. The terrain conveys a magnificent and brutal power--an immensely inhospitable land of twisted rock and tortured pine trees. "Puts things in perspective, doesn't it?" says Baldwin. "A little different than snorting coke off a girl's hip bone," he says with a grin.
Alec Baldwin plays a fashion photographer named Bob Green who leads his photo entourage to the Great White North. Charles Morse (Anthony Hopkins), the millionaire husband of fashion model Mickey Morse (Elle Macpherson), accompanies his wife to the photo shoot. He's morose and moody, and his mind seems preoccupied. As we soon find out, Charles Morse is incredibly intelligent, but lately he's not particularly impressed by his knowledge: "I seem to retain all these facts, but putting them to a useful purpose is another matter," he says. (The movie's working title was The Bookworm.) It's not much of a jump to assume that he must know the truth about what's happening between his wife and Bob Green. He watches as they talk during a photo shoot and flirt during a party and the camera clues us in to little bits of body language that belie a greater intimacy that they must share. Charles knows what it means. "You're the most excellent man," Mickey says to her husband. "That's why I married you." But his eyes are dark and forbidding, as if thunderstorms rip loose in his mind. He's clearly not a happy man.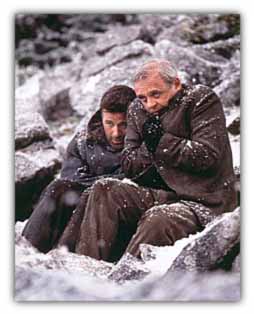 Alec Baldwin and Anthony Hopkins
fight the elements in The Edge.
(©1997 20th Century Fox. All rights reserved.)
To satisfy Bob's hopes of capturing a truly "unselfconscious" photo, Bob urges Charles to follow along on a side trip in search of a local trapper, but the plane crashes and strands Bob and Charles (and a sacrifical lamb played by Harold Perrineau Jr.). To survive, they must walk out of the wilderness--an 80-mile trek over snowy peaks and through precarious gorges, a mission they can only accomplish if they work together. To make matters worse, they soon find themselves being hunted by a mean Kodiak bear who would "just as soon eat you as look at you."
David Mamet's bitter, caustic dialog gives Hopkins and Baldwin room to flaunt their acting chops. Hopkins gives a marvelous performance as Charles Morse. He must reign in his emotions and be resourceful or perish. While Alec Baldwin gives possibly the best performance of his career. Too often Baldwin's best performances get lost in movies that flounder at the box office (such as Miami Blues and Heaven's Prisoners). His performance here, however, shows he's one of the finest actors in Hollywood. He plays a man who desperately wants to get Hopkins out of the way but now he must rely on him in order to survive. He complains and doesn't believe they can beat the bear, but Hopkins urges him on.
Playing just as important a role is the edgy photography of Donald McAlpine and the claustrophobic direction of Lee Tamahori. Their work makes The Edge one of the most nerve rattling movies ever made.
---


A 20th Century Fox Presentation