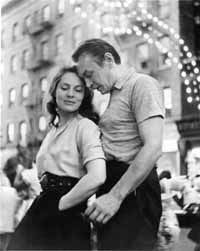 Weddings and Babies, like its predecessors, is a highly personal film, a kind of insider view of working-class life that resonates with the filmmakers' sweet sensibility. Engel seems to have written himself discreetly into both Little Fugitive and Lovers and Lollipops in the form of minor characters who were photographers. In Weddings and Babies, the main male character can be read as a virtual double. Al, (John Mhyers), like Engel, is a commercial photographer whose hunger to "do something important" is frustrated by the compromises of his business, which exists because he's willing to spend all his time shooting "weddings and babies." Al's girlfriend Bea (a radiant Viveca Lindfors) wants precisely the thing that he's come to hate: a wedding and babies. Added to the mix is Al's aged mother, Mama (Chiarina Barile), who like him is restless, unsatisfied. Just as Al roams the streets with his camera, trying to find something that eludes him in the bustle of street crowds and fairs, his mother wanders away from her rest home and eventually disappears at a key moment in her son's life—just as he's resigned himself to marrying Bea. Mama embodies the film's theme of the inability of people to communicate in the most literal way possible—she speaks not English but Italian, and in a low voice that's barely audible.
In all these films, awesome natural forces are always nearby, waiting to remind the characters that there are larger elements of life that must be respected. In Little Fugitive, it's the rainstorm that sends the beach revelers running, bringing a sense that happiness is short-lived and therefore precious. In Weddings and Babies, it's more overt in an extended sequence in a cemetery, where a frantic Al finds his "lost" mother sitting glumly among the tombstones. These scenes assert the importance of noticing the pleasures of everyday life, an almost Buddhist-like awareness of simply being alive and living "in the moment." This is the lesson the "fully mobile, synchronous sound-and-picture system," wedded to the filmmakers' gentle sensibility, brings home.
In a sense, these films are, like the rain in Little Fugitive, a cleansing process, as all the things that separate people from what's really important in their lives—each other—are stripped away. It's only after a serious loss is threatened—the disappearances of Joey, Larry, and Bea in, respectively, Little Fugitive, Lovers and Lollipops, and Weddings and Babies—that the value of the individual is recognized and the recovery of something irreplaceable occurs. This is what Truffaut, Cassavettes, and Scorsese recognized, and what makes these films continue to be fresh, timeless works of art.
page 2 of 2

---
"The Films of Morris Engel With Ruth Orkin": The three videos comprising this set are available from Kino on Video. Suggested retail price: $79.95 for Little Fugitive and $39.95 each for Lovers and Lollipops and Weddings and Babies. For more information, we suggest you check out the Kino Web site: http://www.kino.com.
---
Gary Morris is the editor and publisher of Bright Lights Film Journal (http://www.brightlightsfilm.com). He writes regularly for the Bay Area Reporter and SF Weekly.