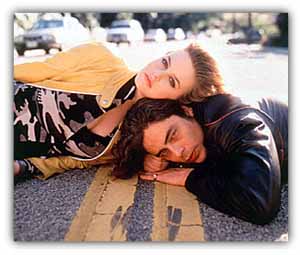 Alicia Silverstone and Benicio Del Toro
in a publicity still for Excess Baggage.
(©1997 Columbia Pictures. All rights reserved.)
Played by noted Australian star, Jack Thompson (who many people will remember for his excellent performance in Breaker Morant), Emily's father cares only about money. Every deal is important. He has no patience for a daughter who distracts him from his work. So Emily calls her father while disguising her voice, outlines the ransom demands, and tells him where she can be found. She wraps her ankles and mouth with strapping tape, snaps handcuffs over her wrists, and stuffs herself in the trunk of her BMW.
It's a wonderfully zany premise; however, the movie doesn't hold many more surprises for us. Sure, a thief immediately steals Emily's BMW, with Emily still bound and gagged in the trunk! But from then on the movie becomes more and more ordinary and predictable. Once the thief, Vincent (Benicio Del Toro), and Emily are together, the movie simply gives us an incredibly hackneyed storyline: Vincent and Emily initially hate one another but eventually their love starts to grow. Will they fall in love or won't they? There's not much suspense in that plot.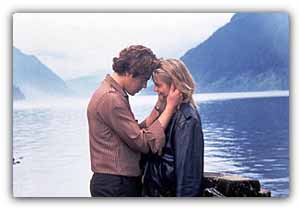 Alicia Silverstone and Benicio Del Toro
in Excess Baggae.
(©1997 Columbia Pictures. All rights reserved.)
The screenplay gives us a scary "Uncle" Ray (played by Christopher Walken). Emily's father calls in Ray, an ex-CIA assassin, to remedy the situation, thus putting Vincent's life in danger. We also get Nicholas Turturro and Michael Bowen as two heavies who think they've been conned out of $200,000 by Vincent. These characters only serve to help distract us from the paucity of inventive material in the rest of the movie. It's easy to guess what's going to happen between Emily and Vincent: either they gradually fall in love or they continue to hate each other. And it's easy to guess what's going to happen between Emily and her father: either he changes his tune and embraces his daughter or he continues to treat her as an annoyance and thus loses her.
Excess Baggage has a great central premise, but story-wise at least, it doesn't have much else. Director Marco Brambilla (who also directed Demolition Man with Sylvester Stallone) gives the movie a slick, stylish veneer. And the movie is filled with good performances: Christopher Walken is creepy but recognizably human as Uncle Ray (in a role that easily could have become nothing more than a caricature) and Nicholas Turturro and Michael Bowen make believably stupid strong arm men, while Jack Thompson creates a shark-like businessman who has no patience for youthful exuberance. But the screenplay poorly serves these characters. Instead of providing some equally outrageous plot developments, Excess Baggage coasts for an hour and a half on the charms of Ms. Silverstone. And while her girl-next-door beauty and her spunky attitude might be enough to make this movie tolerable for her legion of fans, they deserve more than a predictable yarn that wastes all of its wit in the first few minutes.
---


A Columbia Pictures Presentation