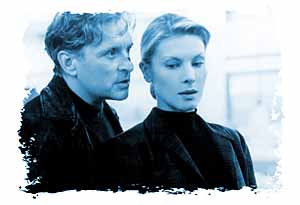 Michael Douglas and Deborah Unger in The Game.
(©1997 Polygram Films. All rights reserved.)
As "the game" sinks its teeth into Nicholas Van Orton, we're pulled along into a dizzying world of broken elevators, mysterious keys, flickering neon lights, and terrifying plunges into San Francisco Bay. It's sort of like Martin Scorsese's After Hours without the dark comedy. There's little to laugh about in The Game. Fincher keeps the mood oppressively serious, but every now and then he loosens the screws just slightly and allows you some hope. But then the waves of paranoia hit. Every movement, every ring of the phone, every person you meet--they all could be part of "the game." Who can you trust?
In The Game, director Fincher creates a dark, shadowy world. If we do see any bright sunlight, it's always on the outside of buildings, while we're stuck in shadows. By blocking out the sky and keeping us trapped inside alleys, parking garages, and sterile skyscrapers, Fincher creates a claustrophobic world where paranoia can swallow you whole.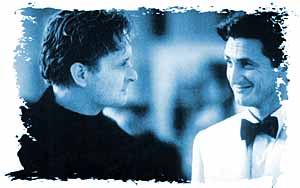 Michael Douglas and Sean Penn in The Game.
(©1997 Polygram Films. All rights reserved.)
At times, The Game recalls the work of David Lynch: Fincher throws us into a situation that makes little sense and then he keeps us off balance by always changing the rules (as Lynch did in his nightmarish Lost Highway). At times, we can see the light at the end of the tunnel, but then we find out the light was just an illusion: now, we're even further lost and confused than before. However, while Lynch might drop us on a secluded back road and offer no way home; Fincher is kinder. He gives us rational explanations and allows us to walk out of the shadows unharmed.
Ultimately Fincher gives us a sane route back to reality, allowing us the opportunity to catch a long overdue breath of fresh air. But to restore some semblance of normality, the movie twists back on itself several times, and in the process, becomes too gimmicky for its own good. I'm not going to reveal what "the game" is really all about, but suffice it to say that the movie becomes like an extended episode of The Twilight Zone. Unfortunately, however, the gimmicky ending doesn't make a whit of sense and only cheapens the truly harrowing mood created by Fincher for the previous 90 minutes. Maybe David Lynch would have better served this material. He wouldn't have backed away to give us a safe, comfortable ending. But until the final 10 minutes, The Game is a mesmerizing experience, filled with malevolence and deceit. It's guaranteed to put you on the edge of your seat, cringing and wincing as he pulls you through a fun house of horrors.
---

A Polygram Films Presentation