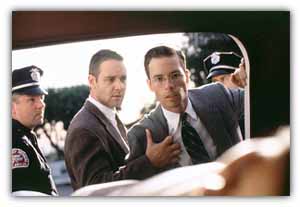 Russell Crowe and Guy Pearce
in L.A. Confidential.
(©1997 Warner Bros. All rights reserved.)
Based upon a novel by James Ellroy, a specialist in the crime thriller genre, L.A. Confidential tells the story of three police detectives. Kevin Spacy plays Jack Vincennes, a celebrity cop who serves as technical consultant for a '50s TV drama called "Badge of Honor." Jack loves the Hollywood glitter. He sets up drug busts while choreographing photo opportunities for gossip-sheet photographers. Russell Crowe plays a hot-headed police detective named Bud White who frequently uses his fists to beat confessions out of suspects. But he isn't just a mindless thug: he's haunted by visions of his own abusive father. Guy Pearce plays an officious, by-the-book cop named Ed Exley who refuses to take bribes. His fellow officers hate him, but that doesn't bother him a bit.
The stories of these three characters all come together during a murder investigation, where several men and women were shot to death at point blank range in a coffeehouse. Some of the details of the crime don't add up. While working from separate angles, Bud White and Ed Exley begin edging closer to the truth. They discover a world of pornography peddlers, celebrity-look-alike prostitutes, and police corruption. White and Exley hate each other, but they have no one else to turn to for help.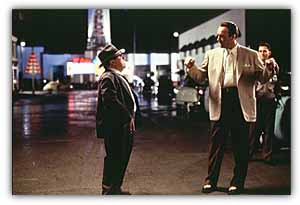 Danny DeVito and Kevin Spacey
in L.A. Confidential.
(©1997 Warner Bros. All rights reserved.)
To whittle down the novel into just 120 minutes required removing huge sub-plots and simplifying the relationships between the characters. As a result, the movie feels incomplete and rushed, as if we're just getting the "greatest hits" of the book. Some of the characters, such as Kim Basinger's Veronica Lake-styled prostitute (does anyone really think Basinger looks anything at all like Veronica Lake?), become little more than enigmas. And other characters get underutilized, such as Danny DeVito's marvelous tabloid publisher who feeds tips to Jack Vincennes in exchange for exclusive crime scene coverage. Regardless of its sumptuous atmosphere and explosive violence, L.A. Confidential feels like it was based on a novel.
However, the movie should be judged more on what it contains instead of what it doesn't contain. On those terms, L.A. Confidential is an astonishing film. Director Curtis Hanson has distilled the novel (with a screenplay he co-authored with Brian Helgeland) into a barrage of blistering dialogue exchanges, bared teeth, and jutting jaws. This isn't the City of Angels of Raymond Chandler's detective fiction, and neither has Hanson fashioned a nostalgic throwback to vintage film noir of the '50s. L.A. Confidential takes place in as seedy an environment as has ever been created on the movie screen, and it's shot in bright sunlight where there are no shadows to hide in. That's part of the message: the biggest, slimiest criminals are right in front of our noses. They're not hiding down the "mean streets." They've got power and they use that power to crush police investigations that they fear.
For all of its astonishing recreation of another time period in L.A. Confidential, Hanson doesn't get carried away with the atmosphere. As he evokes '50s-era Hollywood, his camera typically doesn't hype the marvelous set designs of Jeannine Claudia Oppewall. He lets them speak for themselves. It's action that interests Hanson. When Bud White slams Ed Exley into a wall of file cabinets, the camera lurches forward, jerking us into the action as if we were sucker punched. When Bud White and Exley get caught in a shootout at a deserted hotel, his camera--thanks to the stunning compositions of cinematographer Dante Spinotti--spirals around the actors as bullet holes pierce the walls and shafts of light play across sweat-drenched faces.
L.A. Confidential is one of the most visually exciting movies to hit theater screens in a long time. In the tradition of great confusing detective movies, such as The Big Sleep (which even author Raymond Chandler couldn't fully explain), L.A. Confidential might be too convoluted for its own good, but Hanson's stunning direction and the powerhouse performances of Russell Crowe and Guy Pearce more than compensate. This is a marvelous movie.
---


A Warner Bros. Presentation