Tommy Lee Jones and Will Smith are the Men in Black.
(©1997
Sony Pictures Entertainment Co. All rights reserved.)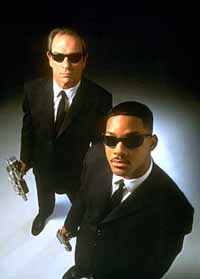 Tommy Lee Jones and Will Smith star in this hilarious sci-fi/comedy from director Barry Sonnenfeld, the same man responsible for The Addams Family and Get Shorty. Unlike so many of this summer's blockbuster action movies (Con Air, Face/Off, The Lost World, etc.), Men in Black doesn't use a sledgehammer approach. Instead Men in Black develops its story slowly and lets us get to know the characters played by Tommy Lee Jones and Will Smith. In the process, the movie becomes a comedy first and a special effects movie second. You'll still get loads of nifty aliens and flying saucers, but director Sonnenfeld recognizes the absurdity of the premise and goes for laughs, unlike, say Independence Day, which was really a comedy but the filmmakers didn't know it. At the same time, he keeps the focus on a relatively small group of characters that we enjoy getting to know, unlike Tim Burton's Mars Attacks!, which inundated us with characters and situations and failed to give us anyone we could really care about. Whereas Mars Attacks! adopted a snide, bratty approach, Men in Black gives us a warm and optimistic yet irreverent story.