But the main reason this movie works is the teamwork of Robbins and Lawrence: they work great together. Robbin's exudes an uptight confidence that masks his jittery, neurotic nature, and. Lawrence gives off a street-smart belligerence that masks his intelligence. It's a perfect combination of personalities.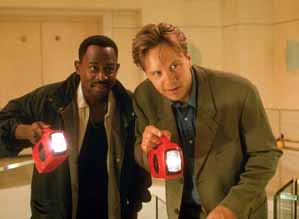 Tim Robbins and Martin Lawrence
in Nothing to Lose.
(©1997 Touchstone Pictures. All rights reserved.)
The movie posters make the most of the contrast in the lead characters by showing Robbins towering over Lawrence. Like all the great comedy teams (Laurel and Hardy, Abbott and Costello, Martin and Lewis), the contrast in personalities fuels the comedy. Robbins plays a sharp-witted, well-dressed advertising executive, while Lawrence plays an educated but unemployed man who is pushed to the edge
However, the movie isn't all Robbins and Lawrence. Many of the best lines or sight gags are supplied by the supporting performers. We get Michael McKean mooning over his collection of native African artwork (all of which appear to be prodigiously equipped, if you know what I mean). Irma P. Hall is viciously funny as Lawrence's mom; she slaps her son silly--and even gives Robbins a slap: "That's because you were with him." And director Oedekerk saves the best for himself: a cocky security guard who spins his flashlight like he's a gunslinger. (And by all means, do not miss his scene with the laser beams!)
The story itself could easily have veered into sentimental (and phony) territory, but Oedekerk keeps pulling surprises. He has a great feeling for off-beat dialog, such as the scene where Robbins and Lawrence rob a store: Robbins does his best to scare the clerk and then Lawrence does his best, and then they insist the clerk tell them who was scarier.
Along with Men in Black, Nothing to Lose is the best comedy of the summer. And in fact, it's one of the best comedies to come along in a long, long while. Be sure to keep your eyes on Oedekerk; he's a major talent.
---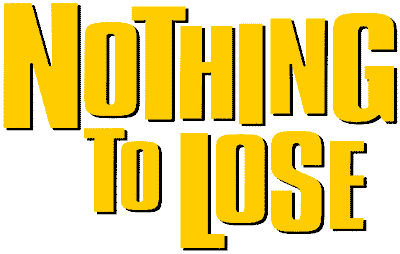 A Touchstone Pictures Presentation