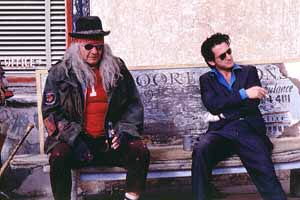 Jon Voight (yes, that's Jon Voight!) and
Sean Penn in U-Turn.
(©1997 TriStar Pictures. All rights reserved.)
Among the characters that he meets, Bobby finds a beautiful half-breed woman, Grace McKenna (Jennifer Lopez), who wiggles her shapely butt and immediately enslaves Bobby; an unscrupulous real-estate baron, Jake McKenna (Nick Nolte), who with his grizzled beard and yellowish teeth resembles an alcohol-drenched John Huston; a slow-talking sheriff (Powers Boothe) with secrets of his own; a bubbly, dim-witted young woman, Jenny (Claire Danes)--"Why doesn't Patsy Cline make any new records?"--who's just itchin' for someone to take her out of Superior; Jenny's absurdly jealous boyfriend Toby N. Tucker (Joaquin Phoenix) with the letters "TNT" shaved into the back of his head; a blind Indian (Jon Voight) who coaxes Bobby to buy him sodas; and the greasiest auto mechanic ever to grace a movie screen (played by Billy Bob Thornton)--"When it's a hot one I don't even like to get out of bed … of course when it's cold I don't either."
Bobby hopes to get his 1964½ Mustang convertible quickly repaired so he can get back on the road, but Darrell the mechanic has other plans. While he waits for Darrell to fix the car, Bobby becomes entangled with the marital woes of the McKennas, as Jake McKenna wants his wife dead--"I hate tolerating the little games she plays!"--and urges Bobby to do the killing: "You're a man without scruples," Jake says to Bobby. "I could smell it on you."
Billy Bob Thornton, Jennifer Lopez, and
Powers Boothe in U-Turn.
(©1997 TriStar Pictures. All rights reserved.)
Oliver Stone captures this absurd mix of characters with burnt out visuals that appear to be baking in the unmerciful Arizona sun. As dust swirls down the streets of Superior and settles into every crack, Stone creates an atmosphere thick with spastic twitches and lurid, James M. Cain-influenced plot twists. You'll find murder, adultery, incest, and just about every other sin imaginable. In short, this material would be perfect for Oliver Stone--if it were thematically significant in some way. But Stone seems out of his element in U-Turn. This is the land of David Lynch, a director who knows how to tweak our fears with paranoia-drenched visuals and absurdist comedy (as in Twin Peaks). While Stone does supply some impressive visuals, he's less adept at comedy. He allows scenes to drag out well beyond their welcome.
The screenplay itself is vintage "B" movie material. Back in the '40s, U-Turn might have resulted in a crisp 70-minute noirish melodrama, such as Detour or Stranger On the Third Floor. However, in Stone's hands the movie drags out to over two hours. Significantly, in the movie's bleak, blood-drenched ending, U-Turn begins to resemble Duel in the Sun, producer David O. Selznick's ludicrous saga of "lust in the dust."
I'm glad that Stone tackled a smaller-sized project with U-Turn. Frankly, his big, important movies have usually struck me as overrated and bombastic. However, U-Turn illustrates that Stone knows nothing about subtly. In U-Turn he wields a meat-cleaver-like approach, bludgeoning everything within swinging distance.
---

A TriStar Pictures Presentation
A Phoenix Pictures Production