With deep blacks, brilliant whites, and a full range of grays in between, the new video release shows that Carnival of Souls was surprisingly well-photographed. Indeed, director Herk Harvey created a marvelous sense of atmosphere. He particularly used his locations well, including a wonderfully eerie abandoned carnival that sits on the outskirts of a town. With tall spires reminiscent of a Russian mosque, the carnival pavillion rises from the edge of a lake. It's surrounded by mud flats that stretch for miles and isolate the carnival. From a distance, the carnival seems extravagant and elegant, but up close, the buildings are deteriorating. Our heroine is drawn to a huge ballroom where dusty streamers still hang from the ceiling and twist in the breeze.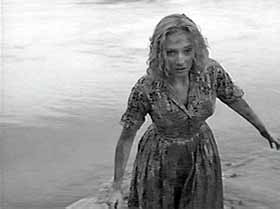 Candace Hilligoss in Carnival of Souls.
The movie stars Candace Hilligoss as a church organist named Mary who has no feeling at all for her job: "To me a church is just a place of business . . . I'm a professional organist and I play for pay, that's all." She rides along with some friends on a drag race down a county road, but something goes wrong and one of the cars plunges off a bridge. Three hours later, police and townsfolk are still dredging the river--with no apparent luck--when Mary staggers onto a sandbar. Had she been there all along and no one saw her? "What about the other girls?" a rescuer asks her. "I don't remember," she says. She's dazed, icy, and confused, and that's how she remains throughout most of the movie. She rarely uses words such as "please" or "thank you." A business acquaintance tells her that "it takes more than intellect to be a musician--put your soul into it a little." But Mary just gives him a cold shoulder. As she begins a cross-country trip to a new job in Salt Lake City, she begins to see the ghostly apparitions of a man (played by Herk Harvey himself), first in the passenger-side window as she drives down the road and later inside her boarding house. What are the apparitions? Why is she seeing them? And what do they mean? (These zombies/ghouls pre-date George Romero's Night of the Living Dead by over five years.)
Director Herk Harvey's production looks somewhat amateurish, but the lack of artifice makes the movie appear more realistic and thus all-the-more unsettling. Harvey surrounds Candace Hilligoss with amateur performers, but once-again, the simplicity of the performances adds further to the movie's familiar-but-yet-other-worldly atmosphere. John Linden, as Mary's next-door-neighbor in the boarding house, gives a nerdish-but-creepy performance. He's a letch who constantly tries to worm his way into her room. And Frances Feist plays Mary's landlady. She somewhat dazed herself, a good-natured but suspicious old lady who uses phrases such as "Ain't that a kick in the head."
The movie contains few special effects. In fact, it gains much of its power from its simplicity. With big-budget production values, the movie's dangerously-portentous atmosphere would likely have become insufferable.
I suppose that's one reason I'm not too crazy about one of the enhancements in this video version of Carnival of Souls. In the tradition of great movie producers-cum-sideshow-hucksters, such as William Castle and David Friedman, Wade Williams presents the movie in "Super-Psychorama": a process that adds green tinting and step-printing to the scenes with the ghouls. (Step-printing blurs the action and gives the scenes a surrealistic atmosphere.) "Super-Psychorama" ends up attracting far too much attention as it emphasizes the differences between the real world and the world of the dead. Originally in Carnival of Souls, the two worlds were virtually indistinguishable and that made the transition from one world to the next hard to decipher--and all the more eerie. But now "Super-Psychorama" keys us in to the differences and belabors the obvious. It's totally superfluous, but it's also sort of fun, particularly for people who've already seen the movie several times. It gives fans of the movie another reason to check out this new video release and give up their old video copies. However, the superb quality of the video transfer itself is more than enough reason to check out this video.
---
Interview: Wade Williams of Englewood Entertainment talks about the video release of Carnival of Souls.
---

Carnival of Souls is available from Englewood Entertainment. Suggested retail price: $19.95. Englewood Entertainment distributes only motion pictures legally licensed from the copyright owners. Transfers are from the original 35mm film masters. Their video library includes Kronos, Plan 9 From Outer Space, Detour, and over 300 additional movies. For more information, we suggest you check out the Englewood Entertainment Web site: http://www.englewd.com.