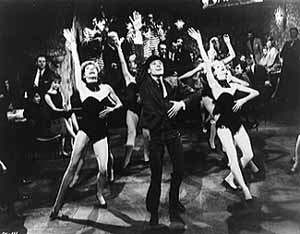 Laurence Harvey in a publicity still for Expresso Bongo.
(©1997 Kino on Video. All rights reserved.)
Johnny's girlfriend, Maisie King (the very sexy Sylvia Syms), performs in a kitschy strip show--a real stunner of a show, particularly for audiences in 1959. The women in the revue wear practically nothing at all, just scant skirts and pasties, as they stage bizarre vignettes involving Mary Queen of Scots and other historical figures.
Expresso Bongo also gives us a clearly sexual relationship between Johnny and his girlfriend. She doesn't even bother getting dressed after her performance at the strip joint. She just throws on a coat. When she and Johnny are back at his pad, she says "Well, there's not much point in putting my things on at the theater if I'm going to take them all off again here." The movie's candor about their relationship is shocking for a movie of the '50s.
Johnny Jackson sees his ticket to the big time when a bongo playing singer starts "slapping the skins" in the local coffee house and the kids go wild. Played by British pop sensation Cliff Richard, Bongo Herbert is a good-mannered kid who eagerly agrees to let Johnny serve as his agent. (Johnny dreams up the name "Bongo Herbert." The kid's real name is Bert Rudge.) With Johnny pitching Herbert's talents to record producers, it doesn't take long before Herbert has a hit streaking up the charts.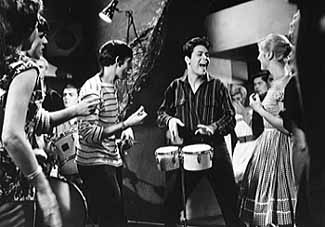 Cliff Richard as Bongo Herbert in Expresso Bongo.
(©1997 Kino on Video All rights reserved.)
The first 40 minutes of Expresso Bongo are stunning, but then the movie starts to lose its way. Right about the time Yolande Donlan makes her appearance as a fading American musical star named Dixie Collins, Expresso Bongo starts to shift its focus away from Johnny and with that change goes much of the movie's energy. In lieu of the exciting, sensory atmosphere of Soho, we get the penthouse apartment of Dixie Collins and the production offices of the record company. Without Johnny as our guide into the Soho nightlife, Expresso Bongo becomes a very ordinary drama about a has-been musical star watching her career fade. Dixie and Herbert are no match for Johnny Jackson and Maisie King. In comparison, they're actually quite dull.
Because the first half of the movie is filled with exciting and surprising scenes, the movie's fade becomes doubly disappointing. Based on a stage play by Wolf Mankowitz, Expresso Bongo always feels artificial and theatrical. All sets get chopped in half with the proscenium arch firmly in place separating the stage from the audience. All the movie's main scenes take place in confined spaces, with little sense of an outside world. This problem is tolerable in the movie's first half when Johnny is weaving his sales pitch and introducing us to the Soho nightlife. But when the movie focuses on Dixie and Herbert, the theatrical stagings turn the movie stagnant.
Expresso Bongo feels like a near miss, but it's still well worth checking out for its thrilling sense of Soho nightlife, the matter-of-fact presentation of life backstage at the strip show, the compelling relationship between Johnny and Maisie King, the hyperactive performance of Laurence Harvey, and the charismatic presence of Sylvia Syms.
---

Expresso Bongo is now available in a letterboxed-edition from Kino on Video. Suggested retail price: $24.95 each. For more information, we suggest you check out the Kino Web site: http://www.kino.com.