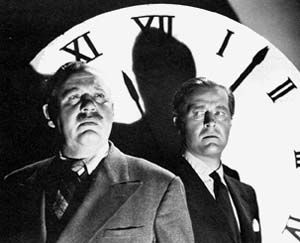 Charles Laughton and Ray Milland in The Big Clock
Ruin and romance might be the key words for the genre. In Billy Wilder's Double Indemnity (1944), slick insurance salesman Walter Neff (Fred MacMurray) experiences both in the form of one of the genre's more treacherous femmes fatales, the ravishing Phyllis Diedrickson (Barbara Stanwyck). As in other noirs, the narrator is a dead man, or will be soon. In a final fit of self-destruction, he's taping a confession of murdering his girlfriend's husband with her help: "I killed ... for money and for a woman. I didn't get the money . . . and I didn't get the woman." Stanwyck's fetishized look--sunglasses, enamelled skin, blond wig--make it clear why Walter is willing to fight, and eventually die, for her.
Film noir, even more than a genre like the western, is a product of its time and looks like it. There's no mistaking the 1940s iconography of the suffering, confused male. In two of Robert Siodmak's films included in this film noir series, Burt Lancaster plays a muscular hunk every bit as alluring as the women who do him in, and equally doomed. In The Killers (1946), based on a Hemingway short story, he's Swede, an ex-boxer and failed criminal whose attempts to go straight are foiled when he's found by the thieves he double-crossed. Noir's obsession with male anxiety is on dazzling display here, as Lancaster lies stretched out on a bed in a dark, dowdy hotel room, waiting masochistically for two hired killers to arrive to murder him. His scenes with Ava Gardner as Kitty Collins sizzle, but some members of the audience will appreciate the boxing sequences even more, with the camera lovingly recording every bead of sweat on Lancaster's muscular flesh.
In the same director's Criss Cross (1949), it's Yvonne De Carlo (Anna) who does him in. Again, Lancaster (Steve) is a na´ve romantic who becomes a criminal out of bitterness over an impossible romance. Yet it's a tribute to the complexities of the genre that De Carlo is not simply a projection of male fears. She has her own life and her own needs, and in the unforgiving noir universe, these needs must clash with those of the male. It's possible to put a feminist spin on characters like Anna and Kitty Collins; after all, in a world that devalues them as mere decorations, why shouldn't they move into traditional male territory of murder and betrayal? In spite of Steve's obsessive love for her, he can't save her from spiraling downward, or himself from grabbing on. A scene where she shows him her back, scarred by the brutal thug she's taken up with, explains her situation without the need for words, and complicates audience response to a character that on paper might be easier to simply reject as a garden variety femme fatale. Criss Cross was remade to dubious effect by Steven Sodbergh as The Underneath (1995).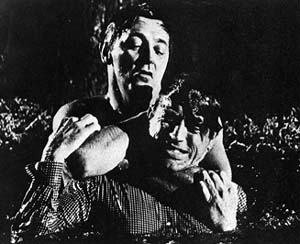 Robert Mitchum and Gregory Peck in Cape Fear
Completing the mini-Siodmak festival within this group is the legendary Phantom Lady (1944), with noir themes of lost identities and rampaging sexuality brought to fever pitch. In a justifiably famous sequence in a jazz club, rhythmic intercutting between Elisha Cook Jr.'s frantic drumming and the languid, leering responses of sexy secretary Ella Raines shows how far the genre could go in conveying the sweaty particulars of a sexual encounter without showing actual fucking. Phantom Lady is based on a Cornell Woolrich novel; along with Hammett, Chandler, and W. R. Burnett, and others of the "hard-boiled" school of the '30s and '40s, he's a name you'd expect to see in the credits of noir. Less familiar in this context are "classier" authors like Hemingway and Graham Greene. Greene wrote the original novels that became two of the films in this series: Frank Tuttle's This Gun for Hire (1942) and Lang's classic of paranoia Ministry of Fear (1943).
This Gun for Hire was the film that turned Alan Ladd into a star, and while he's less appreciated than other stoic types from the period, such as Humphrey Bogart, he has a certain deadpan charm that shines through a terse characterization. This film has touches of the kinkiness that also distinguishes Phantom Lady, particularly in a scene where Veronica Lake sings a bizarre romantic ditty holding a fishing rod and dressed in what looks like a sheath of shiny black latex. This hint of a sleazy sexual demimonde suggests the common underpinnings of noir, transcending particular directors or studios (Phantom Lady was made at Universal, This Gun for Hire at Paramount). The proximity of the second World War to This Gun for Hire brings a dark quality to this story of a hitman named Raven whose murderous adherence to a personal moral code brings him in conflict with war profiteers. Ministry of Fear also riffs on the war, with Ray Milland as an ordinary man caught up, like many a Hitchcock character, in a spy plot that involves seances, murders committed in total darkness, and tittering dowagers who double as secret agents. This film has some of the most memorable visuals in all of noirs, particularly in a godforsaken meadow outside London that lighting tricks and studio artifice transform into a stark, bombed-out landscape reminiscent of Universal's classic horror films. Milland's reassuringly normal face was also put to good use in John Farrow's tight little drama The Big Clock (1948).
Not all the films in this series are from the generally agreed-on classic period of the 1940s. Orson Welles's Touch of Evil (1958) brings a baroque touch to the bordertown hijinks of a corrupt sheriff, a Mexican narc, and his terrorized wife. This film is too familiar to describe in detail, but a character like Mercedes McCambridge's vicious leather-dyke can't go unmentioned. Welles's perversities find a perfect haven in the noir universe, and, as in Kane, he's not averse to subverting himself in an unsparing portrait of a corrupt sheriff who looks as dessicated and overripe as an Ivan Albright painting. Allen Baron's Blast of Silence (1961) is an ultra-rare independent noir distinguished by location shooting and a virtuoso opening sequence of a train racing out of a tunnel toward Manhattan. J. Lee Thompson's Cape Fear (1962), poorly remade by Scorsese in 1991, shows that the conventions of noir are so strong and seductive that even a pedestrian director can make a minor classic of the genre. Barrie Chase plays a world-weary slut who takes up with psychopathic Max Cady (Robert Mitchum) and barely lives to regret it. She summarizes the ethos of noir, the lure of self-destruction, when she tells him shortly before he brutalizes her, "What I like about you is, you're rock bottom. I wouldn't expect you to understand this, but it's a great comfort for a girl to know she could not possibly sink any lower."
---
Related Articles:
Go to Film Noir: The French Connection by Gary Morris for more information about the origin of the term "film noir."
Go to Film Noir Photo Gallery for more photos from the movies in the "Universal Noir" series.
Go to "Ten Shades of Noir" (from Images, issue #2)
---
Gary Morris is the editor and publisher of Bright Lights Film Journal (http://www.brightlightsfilm.com). He writes regularly for the Bay Area Reporter and SF Weekly.