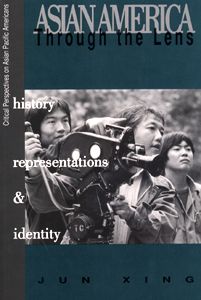 book review by David Ng

In 1982 director Wayne Wang made a movie called Chan Is Missing. It was the first feature film to hold a mirror up to Asian American life, revealing something Hollywood hadn't seen before -- a minority group suffering from an identity crisis. The film follows Jo and Steve, two cabbies from San Francisco's Chinatown, who are looking for their friend, Chan Hung. Chan owes them money, sending Jo and Steve on a wild chase through the back-alleys of Chinatown. Each person they meet tells a different story. One person says that "Chan is a communist spy in hiding"; another claims that he is "a robber who cheated his friends"; and yet another says that Chan is "patriotic and has gone back to the mainland to serve his people." At the end, Jo and Steve are no closer to finding Chan than they are to understanding who Chan is.

"The chase and search for Chan Hung... is a metaphor for the Chinese American identity," Professor Jun Xing explains in his recent book Asian America Through the Lens: History, Representations and Identity (AltaMira, 1998). Like Chan is Missing, Xing's book dwells on questions rather than answers. What is an Asian American? Where do we come from? And where are we going? Xing doesn't know the answers and he doesn't pretend to. (One wishes he did -- the book would've been a lot shorter.) Instead, he takes his readers on a scenic tour of nearly every genre of Asian American film, from full-length features (like Chan) to short subjects to documentaries to avant-garde experimentation. If your idea of Asian American film is a treacly evening with The Joy Luck Club then this book may not be your bowl of tea.

Asian America Through the Lens offers sturdy analysis. Thorough and well-structured, it benefits from Xing's professorial proclivity towards taxonomy. He classifies his near-encyclopedic knowledge of Asian American cinema with zeal and aggression, resulting in creative categories such as the "green card family drama" and the Madame Butterfly suicide-narrative. In the final chapter, Xing connects everything through a discussion of how non-Asians view, perceive and criticize these movies.

But hiding behind the academic respectability lurks anger -- anger at Hollywood, anger at white audiences, and anger at film critics for consistently misjudging Asian American films. Xing masks this anger with academic objectivity, while he seduces his readers into accepting his prejudices as statements of fact.

His most glaring prejudice is against white directors who've made films about Asian Americans. He demonizes them. In particular, he blasts Oliver Stone for his film Heaven and Earth, which chronicles the life of a Vietnamese girl who immigrates to America after the war. Xing accuses Stone of making a "manipulative film," of imbuing the film with his own politics, and of being "the dominant voice in the story." These criticisms may be true, but they are also true of every other film in the Stone canon. To think that Stone has singled out Asian American culture as his political stomping ground is to forget that Stone is an equal opportunity offender.

Xing's anger towards Stone is all the more irrational when placed alongside Xing's nepotistic treatment of Asian directors who've made similar "cross-over" movies. For instance, he lauds Mira Nair and Wayne Wang for having the chutzpah to direct, respectively, The Perez Family (about Cuban-Americans in Florida) and Smoke (about the customers of a Brooklyn cigar shop). Xing dotes on these directors and spares them from the lashings he inflicts on their white brethren. He encourages them to go forth into the world while damning Stone and his peers for stepping foot outside Hollywood. For Xing, multi-culturalism is a one-way street.

Xing also portrays Asian American as victims of "Hollywood's institutional racism." Asian American actors face bigoted producers, claims Xing, who force them into stereotypes, such as Charlie Chan or Fu Manchu, or who simply leave them out of their movies altogether. But it's not Hollywood that's racist, Mr. Xing. It's anyone and everyone who'd rather pay $8.50 a head to sit through The Waterboy than pay $3.50 to rent Salaam Bombay! from Blockbuster. Hollywood simply follows the money trail. Xing seeks revenge for years of what he sees as white cinematic oppression, but he has blatantly misidentified the culprits.

Xing's anger never blows its cover. He keeps it dispassionately mum, carefully sealing it in academic Tupperware. He could've gone cheerfully over the top, like a Malcolm X on an NEA film studies grant. The book would've been scarier, but also a hell of a lot more fun. Asian America Through the Lens sadly ends up as a dull diatribe masquerading as an even duller college textbook.

Readers might also notice Xing's habit of excessively quoting filmmakers, producers, and even other writers. By having others do much of the preaching for him, Xing can distance himself from his own prejudices and double standards. All he has to do is pick the right quotation and plug it in. Unfortunately, his book suffers as a result. There is a glaring lack of authorship. There is no "I," only a bunch of faceless quotations that must shoulder accountability for his ideas. Xing may think he has covered his ass, but in reality, he has forfeited his own book to the supporting crew.

Particularly eloquent among the interviewees is filmmaker Kayo Hatta, writer/director of The Picture Bride, who explains that by treating "a subject very specifically with the colors, the texture, the nuances..." you make it "universal." There is also Christine Choy who co-directed the documentary Mississippi Triangle. In one scene, her film introduces us to Arlee Hen, an elderly Black Chinese American woman, who has been ostracized by the majority Chinese population of Louise, Mississippi. The book comes alive in these quietly observant passages (and there are many of them thankfully). They provide us a glimpse into the richness of Asian American cinema.

Perhaps Asian America Through the Lens would have worked better as a documentary film in the spirit of such first-rate movie-essays as The Celluloid Closet and A Personal Journey with Martin Scorsese Through American Film. The documentary form would have made Xing's arguments more vibrant. With scenes from the actual films, we could see what Xing means without having to wade through his awkward phrasing.

At the end of Asian America Through the Lens, we are somewhat better off than Jo and Steve are at the end of Chan Is Missing. Jun Xing leaves us with a clearer idea of what Asian American cinema is and where it has been. The question of where it is going remains unanswered, however. If Xing had done his job, we could interpolate a vague destination. But because the book is a hybrid of academic puffery and left-wing vitriol, it sends mixed signals. Xing therefore leaves us stranded somewhere in the present, without the impetus or the desire to forge ahead.
---
Asian America Through the Lens: History, Representations, and Identity by Jun Xing is now available from AltaMira Press. 248 pages. Suggested retail price: $22.95 (paperback) and $46.00 (hardcover).