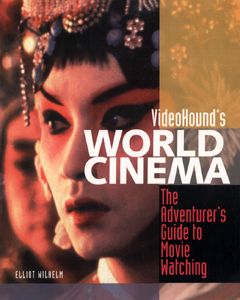 book review by Gary Johnson

VideoHound's effort to cover virtually all genres and facets of film continues with their latest film guide--VideoHound's World Cinema. Authored by Elliot Wilhelm, the curator of film for the Detroit Institute of Arts, World Cinema provides a wide selection of the important (The Bicycle Thief and Seven Samurai) and the not-so-important (King Kong vs. Godzilla and Moon in the Gutter), the beautiful (Fanny and Alexander and The Last Metro) and the horrific (Black Sunday and Nosferatu). Many people assume that foreign movies are almost always art house stuff, and while foreign language movies have indeed been relegated to art houses in most cities around the U.S.A., that perception has led many moviegoers to consider foreign movies with the same suspicion as "modern art." However, with his enthusiastic, insightful comments on the 800+ movies in this volume, Mr. Wilhelm helps to bring foreign movies to a larger audience.

Wilhelm certainly isn't a stuffy writer. His love for world cinema fills the pages of this film guide. In the introduction, he eloquently describes movies as "little glimpses of the world--visions of life--as seen through the eyes of people we would otherwise never meet." Wilhelm cherishes those glimpses, and the effect they have upon us. He loves the potential of cinema to connect us with other people and provide an emotional involvement "every bit as valid, powerful, and resonant as other forms of contact with humanity." I suppose that's why I truly enjoyed reading World Cinema, for Wilhelm doesn't use this book as a showcase for his intellectual chops. He's more concerned with spreading the word about the potential of cinema.

Whether you are making your first forays into world cinema or you are a seasoned veteran of international film, VideoHound's World Cinema is an ideal resource. In addition to the movie reviews, Wilhelm also provides over thirty sidebars on key filmmakers and actors, including Toshiro Mifune, Jean-Luc Godard, Marcello Mastroianni, Ennio Morricone, Claude Chabrol, and others. At times the book casts such a wide focus that it barely skims the surface. For example, World Cinema broaches the subject of Hong Kong action cinema, with sidebars on both Jackie Chan and John Woo, but then only includes reviews of three Woo movies and two Chan movies. Overall, however, this film guide does a remarkable job of presenting its reader with the vast canvass of world cinema.

As usual for VideoHound publications, you'll also find a plethora of indexes, over 100 pages worth, including the obligatory cast and director indexes as well as writer, cinematographer, and composer indexes. In addition, the category index allows you to focus on particular subjects, such as "War Between the Sexes" and "Nazis & Other Paramilitary Slug." One of the books most useful features is the "Next Stop" listings following each capsule review. This feature points you to related movies. For example, after the review of The Threepenny Opera, the "Next Stop" suggestions point toward Joyless Street, Pandora's Box, and The Beggar's Opera.

Unlike other VideoHound publications, World Cinema dispenses with the bone ratings. The emphasis instead is upon words, the descriptions of the movies, and that's how it really should be. Regardless of how much experience you have had with world cinema, whether you've seen all the movies of Ingmar Bergman and Akira Kurosawa or if you're just taking your first steps beyond American movies, World Cinema provides an excellent map of the cinematic universe.
---
VideoHound's World Cinema is now available from Visible Ink Press. Suggested retail price: $17.95. Paperback.