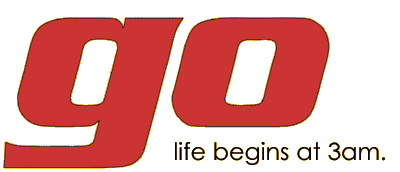 "I used to have your job," sneers the woman with the screaming baby. "So don't think you're special." But the bored teen who bags her groceries (mumbling "Paper or plastic?" like a mantra) knows they have little in common. The coupon-clipping housefrau might've stood behind that same counter, but does this deserve the term "special?" Perhaps the only conversation the cranky woman (a mother) shares with the cynical check-out girl (a child) concerns the fate of their environment--fine print for the future. "Paper or plastic?" the girl repeats. "Both," the woman snips before taking matters into her own manicured hands. "Don't bag bleach with food! It's poison!" So is her attitude, dripping with self-importance. Isn't that what grown-ups complain about kids?
Doug Liman, the quirky director/cinematographer of Swingers (1996), waxes poetic on identities (self-carved and superficial), weaving three frenetic tales into collective consciousness. Go's most obvious predecessor is Pulp Fiction. Now Tarantino takes the blame for would-be auteurs, those Sundance lemmings, making dour comedies about chatty, drug-popping, TV-praising, cartoon characters who serve as cultural billboards. Go mimics Tarantino to a fanatical degree. That, in itself, isn't a crime...if the story surprises and characters intrigue (in this case, yes). Tarantino, once crucified for dropping bold cinematic allusions, has now become one.
Watch the scene where a strung-out couple swap pop lore in a diner (regarding the lame comic strip "Family Circus" as a universal experience) and remember Uma Thurman and John Travolta, chatting over five-dollar milkshakes in a restaurant that references ghosts of movies past (some that Uma is too young to recognize).
Liman smartly makes use of today's wholesome teen stars (Katie Holmes from Dawson's Creek, Scott Wolf from Party of Five) in ways never possible in their pre-packaged, demographically-sound TV roles. Let their co-stars pursue "thespian evolution" in the recent influx of forgettable comedies (rated R, although aimed at audiences who can't vote or drive or savor the sins offered onscreen). Not everything is what it seems in Go, a comedy of manners. The supermarket (instead of a coffee house) sets the stage for the classic drug deal gone awry. Sarah Polley (The Sweet Hereafter) plays the money-desperate cashier, coerced into scoring ecstasy for an absent friend.
Polley, always fascinating to watch, even when quietly summing up a situation, seems doe-eyed and delicate, yet her spine is built of titanium alloy. Holmes is transformed from naive waif to sexual carnivore. Wolf, with his bland, magazine good looks, is a TV star who plays one in real life. He's also gay (or isn't he?), and so is his dim compatriot (maybe) and the married cop who hatches crazy pyramid schemes. Novice screenwriter John August punches up so much wry conflict in three half-hour segments, you can bet all that can go wrong...goes worse.
"Hey, that's my story," says a friend in the front seat. "I told it to you." The film takes a similar approach, taunting "finders keepers" on familiar storylines, such as a traumatic road-trip to Vegas, lensed with hallucinatory glee. Liman, keeping true to his title, tosses in a mind-reading cat (subtitles provided), a spaced-out macarena in the produce aisle, and a timely, beat-infested soundtrack that actually complements the action (and works as auditory advertisement). These are the secret worlds of check-out clerks, where color, says an albino African-American, is "just a state of mind" and twenty hits is "the magic number where intent to sell becomes trafficking..." They don't think they're special. They know it.




[rating: 3 of 4 stars]