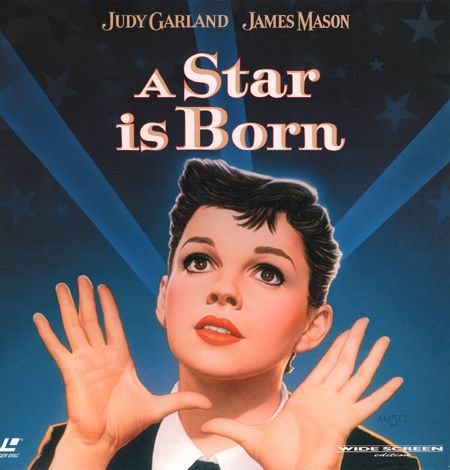 L A S E R D I S C R E V I E W B Y G A R Y J O H N S O N
In the early 1950s, Judy Garland's future in Hollywood was in doubt. Her drug use was widely known. She followed stimulants with sleeping pills, and she woke up to more stimulants. She took pills to calm her nerves, and she took more pills yet to suppress her appetite. The results left her exhausted. Rumors began to circulate about unpunctuality and absences. Rumors said she was unreliable. MGM suspended her several times, and finally in 1951, MGM terminated her contract. The studio where she grew up had abandoned her. She attempted suicide. Other attempts followed.
Instead of shopping her talents around Hollywood, Garland shifted her creative energies to theater. She embarked on a long engagement at the London Palladium, followed by an engagement at the Palace Theatre in New York. These were legendary performances that reasserted Garland as a major entertainer. Eventually, Hollywood came calling once again.
In 1954, for Warner Bros., she made one of the great silver screen comebacks in A Star is Born, a movie crafted as a grand-scaled vehicle for her unique talents. Working with George Cukor, a director especially adept at handling actresses, Judy Garland thrived.
Not everyone was happy, though. Jack Warner saw a huge three-hour epic in the works. Theater operators complained: they'd only be able to have a single evening showing, instead of the customary two. So Warner ordered extensive edits. In addition, in order to bolster the movie's song-and-dance quotient, he ordered a new musical sequence to be filmed (not directed by Cukor), the lengthy "Born in a Trunk" number.
After the work of the editing scissors was finished, the movie had been shorn of nearly thirty minutes. This footage was long thought lost. However, in 1983, film historian Ronald Haver found many of the cut sequences, and he supervised a reconstruction of the movie to near its original length. And now, this footage makes its debut on an excellent laserdisc transfer from Warner Home Video.
Haver had not located all of the missing footage. In some instances, he had only uncovered the audio. So in a handful of instances during the reconstructed movie's first hour, audio segments play while stills are used to recreate the scenes. And in one case, a key scene is reconstructed with the assistance of home movie footage from the A Star is Born is set.
The reconstructed scenes are fascinating. They represent an entire subplot involving the difficulties that singer Esther Blodgett (Garland) encounters after meeting movie star Norman Maine (James Mason). He encourages her to leave her band and try to succeed on her own in Hollywood. In Warner's edited version, Norman Maine is there to help guide Esther as she struggles for a foothold in Hollywood. But the reconstructed scenes paint a much different picture: after building up her hopes, Norman disappears. In the early morning hours, while he's still in a drunken stupor, the film studio packs him up and whisks him away to a film shoot hundreds of miles away. While he's gone, Esther stumbles from studio to studio. Everyone gives her a patronizing smile and nod before sending her on her way. They think she's merely Norman's latest floozy. They've seen it all before and expect she'll soon be discarded like the rest.
It's unfortunate these scenes were ever removed from the movie. These scenes unfold at a leisurely pace and let us get to know Esther better as we sympathize with her plight: she's now stranded in Hollywood, without a job, and without any prospects. These scenes also emphasize that Esther wasn't exactly an overnight sensation. As the movie unfolds and these reconstructed sequences are revealed, the movie becomes fresh and new and surprising.
In addition, this new laserdisc release also includes several additional extras, such as footage from the Hollywood premiere telecast, footage from the premier party, a newsreel excerpt, and a deleted song, "When My Sugar Walks Down the Street." But the most intriguing extras are the alternate takes of "The Man That Got Away." Director Cukor filmed this musical number several times with different blocking and different costumes. So each of these sequences are remarkably different. It's hard to argue about the final version that was used in the movie, but the alternate takes are magnificent. My favorite take has Garland in a simple dress, belting out a particularly impassioned reading of the song. However, the studio producers weren't happy with her simple wardrobe, so they ordered another version of the song, this one with a more elegant dress on Garland. If you're not familiar with this song, you're missing one of the greatest songs ever recorded. The natural tremble in her voice conveys pain and despair, but her overpowering vitality fights against it. Meanwhile, a first rate jazz band evokes a smoke-filled, after-hours barroom atmosphere of smoldering passion and desire. It doesn't get much better than this. This is Hollywood filmmaking at its very best.
I wish I felt the same way about the rest of the movie. Long stretches of the following two hours are frequently difficult to watch as Esther (now renamed Vicki Lester) and Norman encounter numerous problems. As her star ascends, Norman descends into alcoholism. This means we're witness to scenes that wallow in self-pity, such as the scene where Vicki tries to cheer up Norman by performing for him in their living room. She goes through an entire musical number that she's working on for her next movie, a musical number to end all musical numbers. The movie also strikes an uncomfortable balance between its backstage drama and its musical numbers. In particular, during the "Born in a Trunk" number, which extends for over ten minutes, the movie's dramatic pacing comes to a complete standstill. It's a great musical number, but it's at odds with the movie's serious dramatic developments.
Undeniably, however, A Star is Born is a stunning achievement for Judy Garland. This is her best performance. She's absolutely stunning. Her vulnerability, always so close to the surface (it's one of the reasons audiences love her), is conveyed by her large expressive eyes and her tremulous body language, while her impassioned voice conveys her strength. Equally memorable is James Mason. His Norman Maine is one of the screen's great alcoholic characters. He doesn't create a lovable drunk. Norman is a belligerent drunk. In one scene, when Tommy Noonan tries to stop him from attempting to put the mash on Judy, we see the violence within Norman boil close to the surface. He wants to smash Noonan's face in, but he backs away and grins instead: "If I don't get my way," he warns, "I'll begin to breakup people and things."
In addition to the movie's great performances, George Cukor shows astonishing control of the camera. He's normally regarded as a great handler of actresses, but his facility for handling the camera is rarely mentioned by critics. However, in A Star is Born, Cukor creates amazingly complex images. The movie's opening scene, filmed backstage at a theatrical extravaganza, conveys the chaos of backstage goings-on. Using a widescreen Cinemascope lens, Cukor captures a large panorama of action and effectively conveys the show's mammoth-scale. Something's always happening in the foreground, in the background, on the left, on the right: Cukor crams the frame with movement and confusion.
After the success of A Star is Born, Judy Garland had Hollywood in the palm of her hand. But instead of capitalizing on her new success, she retreated. For all practical purposes, A Star is Born was her last major starring role. She would appear in a supporting role in Judgment at Nuremberg, and she would make one last musical, I Could Go On Singing, in 1963. But A Star is Born was at both her big return to Hollywood and her swan song.
---
A Star is Born is now available on laserdisc from Warner Home Video, distribution by Image Entertainment. Suggested retail price: $39.98.