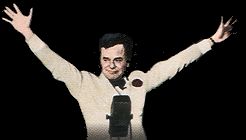 Horace McCoy is one of the great unheralded writers of the hard-boiled school. Most everyone has heard of Dashiell Hammett, Raymond Chandler, and James M. Cain, but McCoy's novels are rarely in print nowadays. One of his best novels, They Shoot Horses, Don't They? was widely regarded as a minor masterpiece upon its original release in 1935. But over the ensuing years it gradually disappeared from bookstore shelves. Maybe it was too bitter. Maybe it was too unrelenting in its depiction of a depression-era dance marathon.
They Shoot Horses, Don't They? presented us with a dark and violent world where people were readily exploited for the pennies that they might bring in from a viewing audience. Marathon dances lasted for weeks, even months, draining their participants of self-respect and gradually turning them into the walking dead. While most of the hard-boiled writers dealt with serious issues only in oblique fashion, McCoy confronted issues head-on. And he didn't pull any punches. The results certainly weren't pretty. So even during the heyday of film noir, Hollywood typically avoided McCoy's novels. Kiss Tomorrow Goodbye was filmed in 1950 by Warner Bros. with James Cagney in the lead role, but not until nearly two decades later was another McCoy novel filmed.
1969 was the right time for Hollywood to turn to McCoy. As the Vietnam War divided America, the audience's tolerance for cynicism and despair grew. They Shoot Horses comfortably fit into this climate.
In retrospect, Sydney Pollack seems like an odd choice to direct They Shoot Horses. He would soon go on to become Hollywood's foremost director of romantic movies (e.g., The Way We Were and Out of Africa). In 1969, Pollack's career was still young (he was 35 years old), but he'd already directed a wide variety of movies, including a western (The Scalphunters), a war movie (Castle Keep), a Tennessee William's drama (This Property is Condemned), and a movie based upon a John Cheever short story (The Swimmer). No real patterns or inclinations had become apparent in his career.
With They Shoot Horses, Don't They?, Pollack took his biggest step forward. This was the first movie that he both produced and directed, and it's one of his very best efforts. They Shoot Horses, Don't They? is a blistering portrayal of the lengths that desperate people will go when money is dangled before them. With Gig Young as the MC who smiles like a used-car salesman while shouting "Yowza! Yowza!" to rouse the audience, They Shoot Horses pulls the audience onto the dance floor and makes us witness what the dancers must endure. In no scene is this clearer than the derby sequence. Pollack uses hand-held cameras and extensive tracking shots to place the movie's audience within the mass of speed-walking dancers who stumble and groan while their muscles scream in agony. Competitors fall to the floor, their limbs convulsing. Pollack's camera weaves between the dancers, staring at their glassy eyes and their clenched jaws. It's one of the most grueling episodes ever captured on film.
Pollack and screenwriters James Poe and Robert E. Thompson rarely let us far away from the dance floor. Soon after the opening credits, we become locked inside the dance hall. With the exception of the movie's male lead, a young drifter named Robert (Michael Sarrazin), our only knowledge of the dancers comes from what we learn during the competition. For Robert, the movie provides brief flashbacks, as well as flashforwards, but even he emerges from nowhere. He virtually walks out of the ocean and into the dance hall. By throwing us into the dance competition and keeping us there, Pollack creates a claustrophobic, stifling, oppressive atmosphere.
Pollack tells this story with no traces of nostalgia. The art direction by Harry Horner effectively evokes the depression era; however, Pollack isn't interested in romanticizing marathon dance contests. So the setting's details rarely capture the camera's interest. An entire world exists in the background and at the edges of frame, but Pollack and cinematographer Phillip Lathrop keep the camera trained on the strained faces and tortured bodies of the dance contest participants.
With so much emphasis placed upon the characters, much of the movie's burden falls upon the actors. Therefore Pollack assembled a first-class ensemble. Jane Fonda, fresh from her role in Barbarella, reasserted her stature as a serious actress in her performance as Gloria. (She was nominated for a Best Actress Academy Award.) She's grim, hard, and determined as she pits her entire future on winning the contest. Gig Young is the smooth-talking MC who weaves background stories out of thin air for the dancers and coaxes them to become performers. He never lets them forget that the contest exists because of the money that a paying audience will shell out. (Gig Young won the Best Supporting Actor Academy Award for his performance.) Red Buttons plays a veteran of several marathons. He hands out his wisdom to the other contestants, but his age has caught up with him and turns him into a tragic figure. Susannah York plays an actress who naively believes that talent agents and movie producers will be swarming the dance hall's stands. Her refined elegance quickly begins to fade, and as it does, her eyes become feral and wild. (Susannah York received a Best Supporting Actress nomination.) Bruce Dern and Bonnie Bedalia play a young couple who once won a dance contest, but now Bonnie's pregnant and her every step becomes a struggle.
The movie's only false note is Michael Sarrazin. He turns the novel's central character into a doe-eyed simpleton. To be fair, the character of Robert is indeed na´ve in the novel. But Sarrazin acts as if he has no comprehension of the character's inner life. He allows Robert to become little more than a cypher.
Now available on DVD and VHS from Anchor Bay Entertainment, They Shoot Horses, Don't They? is as uncompromising a vision today as when Pollack filmed it 30 years ago. It introduces us to a dance that seemingly will never end. The contestants go round and round while people in the stands shout them encouragement. When the dancers fail, hundreds of hours of sweat and pain suddenly disappear. As Rocky (Gig Young) smiles and bids them farewell, and as they stumble back to the dressing room, we know their dreams of a better future have been destroyed and their guts have been ripped out. But the show continues. "Yowza! Yowza! Yowza!" shouts Rocky. "As the clock of fate ticks away, the dance of destiny continues, the marathon goes on and on and on . . . ."
---
They Shoot Horses, Don't They? is now available on DVD from Anchor Bay Entertainment. The movie is presented in both a letterboxed version (2.35:1) and a full-frame version on the same DVD. In addition, the DVD contains a behind-the-scenes featurette and a theatrical trailer. Suggested retail price: $24.98.
They Shoot Horses, Don't They? is also available on VHS from Anchor Bay in both a "Collector's Edition" for $14.98 (with a behind-the-scenes featurette, clamshell packaging, a theatrical trailer, and widescreen presentation) and a standard full-frame VHS edition for $9.99.