DVD cover artwork



[click photos for larger versions]
After one disowned feature (Two People, 1944) and a string of shorts, Dreyer secured financing for what many regard as his crowning work, Ordet (1956). Based on a play by Lutheran minister (and Nazi victim) Kaj Munk, the film is a wrenching study of the spiritual desolation and intricate emotional relationships in a rural household. Morten Borgen is the old patriarch of a farm run by his two sons Michel and Anders. A third son, Johannes, has had a mental breakdown and believes he's Jesus Christ. Michel's wife, Inger, and their two daughters complete the household. In a scene reminiscent of what happened to Dreyer's own mother, Inger becomes desperately ill in childbirth. The possessed Johannes predicts her death, and she dies. Prompted by her daughter, Johannes commands Inger to rise from the dead, and she does.
Dreyer's use of light and shadow fantastically evokes the film's two worlds -- the darkness represented by the Borgens' lack of faith, Johannes's insanity, and Inger's death; and the light represented by Inger's radiance, kindness, and sexuality, which transcend mortality. Her resurrection, defying narrative logic, is an extraordinary affirmation of love over human limitations. In one of the great moments in all of cinema, she rises, hungrily kissing her overwhelmed husband as if she were famished by death.
Dreyer's career ended in 1964 with Gertrud, the story of an opera singer who discards a series of lovers over a period of years. Here Dreyer's style has been pared to its dreamy essence -- extraordinarily long takes, a few simple interiors, a handful of characters. Ordet showed the solace of nature in its restless surveys of the landscape around the Borgen farm; in Gertrud, the landscape is a series of emotionally charged interiors that reflect Gertrud's rich imaginative life far from nature, resonating through the power of her personality, with little regard for the outside world. Dreyer had other projects in mind, including Medea (eventually made by Lars von Trier from Dreyer's script) and a life of Christ (for which the screenplay exists). Gertrud was reviled by French critics on its release (the Cannes audience screamed their displeasure and many filmgoers apparently walked out), but its star eventually rose -- alas, too late for Dreyer, who died in 1968.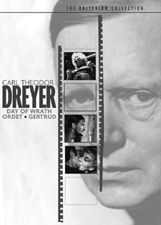 In 2000, Home Vision Cinema released the latter three films on VHS, and now The Criterion Collection has released these same three films on DVD in excellent transfers taken from solid source materials. The Criterion Collection has packaged these films together in a four-disc boxed set, with the fourth disc being devoted to a 94-minute documentary, Carl Th. Dreyer: My Metier (1994) by Torben Skjødt Jensen. This documentary is an engaging mix of interviews, film clips, anecdotes, and history that has its own style -- a collage of double-exposures and visual effects, that in its own way pays loving tribute to its subject. My Metier sketches Dreyer's personal history, the early years of privation, a cruel upbringing at the hands of an adopted family after the death of his mother, and his entry into films via journalism, then scripts, then editing, and finally directing. Each of the major films gets a patchwork production history via interviews with some of Dreyer's collaborators both before and behind the camera, extended clips, and occasional commentary from Dreyer's extensive writings. Interviewees include the glorious Lisbeth Movin from Day of Wrath, who, unlike most actors, was happy to be "molded like a lump of clay" by a gifted director; Preben Lerdorff Rye, so memorable as both Martin in Day of Wrath and Johannes in Ordet; Hélène Falconetti, eloquently discussing La Passion de Jeanne d'Arc as a collaboration of two artists; Henning Bendtsen, who shot Ordet and Gertrud; and many others.
Dreyer's much-debated methods are discussed at length here by those who worked with him, and, understandably in an artist of such complexity, no consensus emerges. To Hélène Falconetti, Dreyer could easily "fly into a rage" confronted with differing opinions; to Movin he resembled at first glance "a little office clerk"; to Axel Strøbye (the psychiatrist in Gertrud) he was a curious combination of humility and obsessiveness, demanding that every detail in a production, even those the audience could not be aware of, be "correct." The fact that there were fallow periods lasting as long as ten years between productions is irrefutable evidence of Dreyer's artistic intransigence, but the portrait here is also one of guilelessness, even a childlike charm. Birgitte Federspiel (Inger in Ordet) remembers him giving the actors candy, as a father would a child: "We fell for it," she says with a laugh. The more familiar magisterial Dreyer is also evident here. Rye describes an incident on the set of Day of Wrath when the crew was going to lunch and Dreyer refused to release the elderly Anna Svierkier (the unforgettable Herlof's Marthe) from her painful position strapped to a rickety ladder. The film shows the result of Dreyer's sadistic powerplay in Svierkier's post-lunch excoriation of the minister, one of Day of Wrath's most powerful moments. Still, even those who suffered at his hands speak with almost religious fervor of their experience working with him. There's evidence too that Dreyer himself suffered from his artistry. After the troubled production of Vampyr he had a nervous breakdown and was hospitalized for three months in, of all places, the Clinique Jeanne d'Arc. Of course, the films, now well preserved in the state-of-the-art DVDs that are part of this set, have survived, and will continue to, the details of Dreyer's life, personality, and working methods.