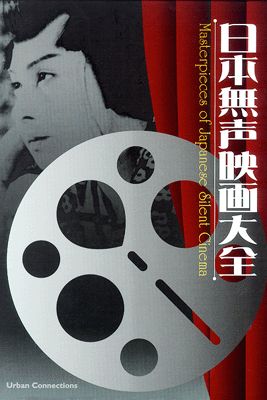 Western interest in Japanese film falls mainly into three realms: the Godzilla movies and their endless cheesy clones; the works of arthouse staples such as directors Kurosawa, Mizoguchi, Ozu, Imamura, et al., that have been seen and written about in the West since the 1950s; and the exploitation/actioner genres beloved by fanboys and deployed to an increasingly wide (though still quite small) audience. The latter include everything from bread-and-butter samurai/yakuza cinema to "pink" (porn) films to the lurid sex 'n horror movies of the '60s and '70s with titles such as The School of the Holy Beasts. Such films have long had their advocates in the underground press (zines like Asian Trash Cinema come to mind) and are starting to become better known through DVD releases.
Less accessible but equally interesting is the Japanese silent film. Through an unfortunate collusion of circumstances, most of Japan's silent films — which endured into the 1930s, after the West had switched exclusively to sound — were destroyed. (This is also the case throughout the world, including in America.) Still, as the new DVD-ROM Masterpieces of Japanese Silent Cinema shows, this is as rich a topic for both study and entertainment as any of its rivals in the West.
Issued in a double clamshell case with a 12-page booklet, this DVD-ROM (which is not compatible with CD-ROM players, please note) manages to pack a complete history of its subject onto its single-sided disk. The format is simple and easily navigable. There are three main icons that permit entry into the various areas: Theater, Research Center, and Library. Drilling down into these areas reveals a wealth of information that brings this obscure subject to life. Clicking on the Research Center icon, for example, brings up articles on the following topics, among others: The Arrival of Cinema in Japan; History of Silent Film in Japan; On the Benshi; Benshi Fashion; Why So Few Preserved Films. Each of these links calls up a detailed explanation of the subject, which can be printed. The "Why So Few Preserved Films" link, for example, tells a fascinating story about the bombing of the Daiei company's film storage vaults during World War II. That, along with Tokyo's celluloid-unfriendly climate (high humidity and high temperatures in the summer) and the 1923 Great Kanto Earthquake, conspired to destroy much of Japan's early film history that began in the 1890s.
| | |
| --- | --- |
| | From Orochi. |
The Research Center contains basic film data on an astounding 12,000 films. This data includes title, year of production, production company, director, staff, and cast. Embedded links take the user quickly to other areas of interest and can inspire days of research into a particular person or studio. Multiple search options allow the user to search film titles, people's names, production years, production companies, and the disk's film library. Among the revelations here: a 1917 law forced the segregation of audiences into three groups that could not commingle: men, women, and children with their parents. Unmarried young men and women were not permitted to attend a movie together. Another intriguing tidbit concerns the gakudan, the musical group that accompanied silent films. This ensemble showed the West's early influence on Japanese culture, being composed equally of instruments from both Japan (taiko drums, for example) and the West (trumpets and piano). Also contained in the Research Center are period stills, leaflets and posters, and plot descriptions for 1,000 of the films.

The Library icon gives users access to both audio and video interviews (including film critics and benshi); biographies of the 560 people profiled on the disk; a list of references for further study; and a section on the benshi, those narrators who recycled the tradition of Kabuki narration into cinema. (No Japanese silent film was without a benshi, and this convention continues to be observed today for the rare screenings that occur.)
| | |
| --- | --- |
| | From I Graduated, But ... |
For many users, the Theater section will be of greatest interest. This is the location for the video clips from 45 Japanese silent films. Charmingly presented in a mock theater (complete with rising curtain), these clips are accompanied by music and benshi narration, with English subtitles. Some of this material is tantalizing indeed. Mizoguchi fans can see just how far back his visual brilliance stretches in the clip from The Downfall of Osen. The scene shows a woman obviously in crisis — perhaps the archetypal Mizoguchi image — with the director's elegant moving camera tracking her as she runs and then in front of her, seeming to lead her along to what looks like further terrors. Cinematographically speaking, this is one of the strongest clips sampled, but there are others (Orochi and Mizoguchi's The Water Magician, for example) that show the high quality of work being done in Japan from the beginning. Video resolution is reasonably good, perhaps a tribute to the restoration process done on many of the films by Matsuda Film Productions, a collaborator on this disc. (Matsuda Shunsui, a benshi narrator himself and a pioneer of film preservation, founded this company.) Other titles of interest include Jirokichi the Rat, I Graduated, But . . . , and a 1913 version of Chushingura.

On the down side, this item was issued only in Windows format, so Mac owners are immediately cut out. The other caveat will be too serious for many potential purchasers to overcome. The price is a prohibitive $200.00 US. While institutional pricing is crucial in helping such entities as Urban Connections, the disc's publisher, stay afloat, it would also make sense to have a two-tier pricing scheme: a high price for schools and libraries and a more reasonable one for individuals. As it stands, only the most serious fans will want to purchase Masterpieces of Japanese Silent Cinema outright; others are advised to make sure their local library stocks it, along with a good DVD-ROM player.
---
Masterpieces of Japanese Silent Cinema is available from Urban Connections. For more information, check out http://www.infoasia.co.jp/urban/.