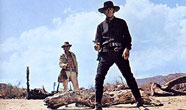 30 Great Westerns examines the most influential and historically important Westerns, from The Covered Wagon (1924) and The Iron Horse (1925) to High Plains Drifter (1973) and Unforgiven (1992). These are the Westerns that all fans of the genre should be familiar with.
articles by Grant Tracey, Gary Johnson, Elizabeth Abele, John Nudge, and Craig J. Fischer.
Previous "In Focus" sections:
The Cinema of Alfred Hitchcock.
articles by Elizabeth Abele, Iain Morrisson, Dr. Kenneth Rivers, Robert Baird, and Michael Schmidt.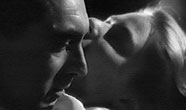 Sex, Drugs, and Exploitation.
articles by Gary Johnson and Gary Morris.
The Western.
articles by Gary Johnson, Peter Flynn, and John Nudge.
Italian Gothic Horror Cinema.
articles by Gary Johnson, Alain Silver, James Ursini, Tim Lucas, Glenn Erickson, Robert Firsching, and Chris Fujiwara.
Cliffhangers: the Golden-Age of Serials, featuring Flash Gordon, Spy Smasher, Tiger Woman, and many others.
articles by Grant Tracey and Gary Johnson.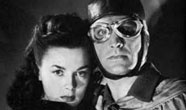 Stars: Some Historical Reflections on the Paradoxes of Stardom in the American Film Industry, 1910-1960.
article by Brian Gallagher.
Ten Shades of Noir: A Review of Film Noir Classics.
articles by Jack Hagopian, Grant Tracey, and Gary Johnson. Plus, Alain Silver writes about the ending of Kiss Me Deadly.
Hollywood Stars of the '30s, featuring James Cagney, Joan Crawford, and Barbara Stanwyck.
articles by Gary Johnson and Grant Tracey.