Go Back to:
The Trouble with Trouble Along the Way
If you enjoyed the offbeat role John Wayne played in Trouble Along the Way (1953, Warner Home Video), then you should seek out these other Wayne oddities:
Dark Command (1940) Republic Home Video.
After his breakthrough performance as the Ringo Kid in John Ford's Stagecoach (1939), Wayne returned to Republic Pictures in "A" features. Dark Command was his first "A" film for the studio and in a sense it's a big-budgeted throwback to his six-reel Lone Star B westerns of the mid-thirties. B-western star Roy Rogers even appears in a supporting role.

John Wayne and Claire Trevor in Dark Command.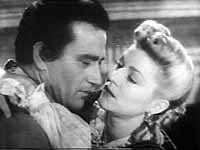 Wayne plays a romantic, easy-going, sincere frontiersman who becomes marshal of a small town to win the affection of the woman he loves (Claire Trevor). Wayne's opponent Cantrell (Walter Pidgeon), an intellectual egotist, feels he ought to have been marshal because he can read law books. Disgruntled, Cantrell raids Kansas and sets it bleeding during the Civil War. The film has several wild shifts in mood, but the highlight is Archie Stout's haunting cinematography. When Trevor visits husband Cantrell at his mansion compound, the camera is strapped to a buckboard and as it tracks in, her point-of-view reveals a dissolute lot of "soldiers," cavorting, drinking. None of Cantrell's men seem to be able to button their shirts! And once inside the opulence of the mansion, Stout's dim lighting diffuses Cantrell's gifts (jewels for his wife) and hospitality (a turkey dinner under candlelight for captive Wayne) into something sordid. We all want Trevor to get out of his corrupt clutches and with the help of Wayne she does.
Wheel of Fortune (1941) Republic Home Video.
This film is an absolute gem. Wayne plays Lynn Hollister a small-town lawyer (!) from Spring Valley who travels to the city to solve the murder of a boyhood friend. There, Hollister tangles with Boss Cameron's city machine and falls in love with his self-assured daughter, the graceful Frances Dee. Wayne's Hollister displays the child-like charm of a comic star. Upon arriving at Union Station he inadvertently knocks his hat off his head and desperately tries to track it down before it gets kicked under a woman's heel. Later he impulsively stops to smell a flower and play with a train set. His childlike innocence aids his investigation because people don't initially take him seriously. While visiting the Club Inferno, a croupier, showcasing a brash dance number with women decked out in devil costumes, plays Wayne little heed until he soft-spokenly says, "Plenty interesting. With all that noise a gun could go off with nobody hearing it." His innocence also gets him Frances Dee. She loves how he speaks of Spring Valley, his words an elegy for rural America: "It's always quiet and peaceful there. And friendly. Even the boats, on the river, in front of our home, blink at each other, neighborly. They even seem to shake hands as they pass." But Wayne's pastoral innocence can also be ornery. After rescuing Dee from Ward Bond's sexual assault, Wayne tells her to go home. Dee refuses and Wayne mentions a stubborn mare and a burning barn and then he wraps her in a checkered table cloth and slings her over his shoulder. And to think, he does this again later in the film! And you thought Cary Grant smacking Katherine Hepburn over some golf clubs was bad.
Big Jim McLain (1952) Warner Home Video.
From 1948 to 52, Wayne served as President of the Motion Picture Alliance for the Preservation of American Ideals, a movie colony organization that worked in conjunction with the House Un-American Activities Committee to name names. Ward Bond, Gary Cooper, John Ford, Clark Gable, Hedda Hopper and Adolph Menjou were all active members. When his tenure as president ended, Wayne paid his tribute to HUAC with this flag-waver. Big McLain is a social document and a film you ought to watch just to get a flavor of one star's obsession with Americanism and, gulp, the need for witch-hunts. The film begins with ominous flashes of lightning and we're asked in voiceover, "How stands the Union?" Cut to a HUAC investigation and a bunch of oily communists pleading the Fifth. Clearly these are bad people, hiding behind the Constitution of the United States to corrupt our democracy, and Wayne, nicknamed "Seventy-Six" (as in his height [six feet-four] and "Spirit of"), plays a HUAC investigator bent on busting them all up, especially a communist cell in Hawaii. Of course, Duke is patriotic. He pays his respects to the fallen men of the USS Arizona. Duke is god-fearing. When lightning strikes in his relationship with Nancy Olson, they both drop in at a nearby church to acknowledge their blessings. And Duke is two-fisted. He can lick any commie, especially those "labor" leaders who call him white trash and toss around the "N" word, The commies? Well, they're professor types, you know? The kind of subversives that write articles for Images. Offbeat bonus: Hans Conreid does a fun star-turn as an eccentric witness that you'd expect Jack Webb to bump into any week on Dragnet.

Janet Leigh and John Wayne in Jet Pilot.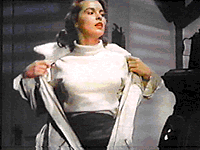 Jet Pilot (1957) MCA/Universal Home Video.
Shot in 1950, shelved until 1957 and featuring stunt work by Chuck Yeager, this Joseph von Sternberg RKO film has the Jules Furthman-Howard Hawks touch: the script involves a compatible man and woman who at first don't trust each other, then test one another, and then capitulate to love, but something may be lacking in terms of overall charm. I admit this film is a guilty pleasure of mine. Wayne, adept at comedy, frequently throws back his shoulders and arches his eyebrows, conveying a sardonic ease as American's top jet pilot. And Janet Leigh, as his Russian equivalent, was never sexier, wearing Baghdad pants with a slit in the side, or propping her butt next to a warm furnace and then pulling a sweater over her arms as she looks coyly and jets whoosh overhead. The comic effect of linking the "leering" jet and Duke's gaze is sledgehammeresque, as is the film's narrative: Westerner Wayne bringing Easterner Leigh over to the chimes of freedom. Seems she's just a sucker for a Palm Springs steak!
---
Photo Credits: Republic Pictures Home Video and MCA/Universal Home Video.