Wayne said: "I never at any time during our marriage struck my wife . . . I will add that many times I had to protect myself from her temper--I call it 'womanhandling.' Many times I had to hold her arms and grab her foot when she was trying to strike or kick me." The preliminary hearing decided in favor of Wayne--he had to pay Chata $1,100 alimony. She appealed the decision.
Trouble Along the Way, released on the east coast in May of 1953, was marketed as a breezy comedy, a light-hearted Going My Way, featuring a "lovable pool playing padre and his lusty lanky pal." The plot involved a crotchety rector (Charles Coburn) trying to save an impoverished Roman Catholic college by hiring a cynical ex-football coach (Wayne) to bring the school to national attention. Donna Reed played a child welfare officer who at the instigation of Wayne's unpleasant ex-wife (Mare Windsor) investigates whether their eleven-year-old daughter (Sherry Jackson) is being neglected by her father. This plot, labeled "contrived" by a Time Magazine reviewer, does contain the usual narrative elements of a Hollywood comedy--mistaken identities and complementary opposites--but because the film was released between Wayne's preliminary and final divorce trials, the plot resonates a series of ideological positionings that favor the troubled offscreen Wayne.
Although the offscreen Wayne was attacked by Chata for domestic violence, the filmic Wayne/Williams was constructed as a somewhat unconventional yet loving single father. Steve Williams may be cynical and amoral--he's lost his faith and as a football recruiter cheats in order to win--but the text's underlying assumption, echoed by the closing confession of Father Burke (Coburn), is that Williams cheats for only one reason: "his child."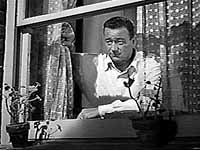 Wayne's loyalty and love for Carol (Jackson) is illustrated during an early quiet moment. After a visit from Alice Singleton (Reed), Carol leaves for school, and Wayne in long-shot walks to the window, separates the curtain. An eyeline match reveals an east-side street and his daughter crossing it. A reverse medium-shot shows Wayne watching, the lines around his mouth loose, his eyes concerned.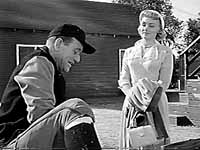 Wayne further projects an image of concerned parent when Alice arrives to watch his team practice at St. Anthony's. Williams won't answer her directly but does question her authority. "What do you know about love," he asks, in medium close-up, eyes squinting as he sits on a bench. He then gives a meditation on parental fears--polio and "that cold chill you get when you hear that screech of brakes and know that your kid is out in the streets someplace." Williams' reference to streets clearly links with the earlier image of a caring Wayne watching from the window.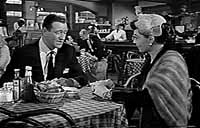 By contrast to the domestic tenderness of Steve, Trouble presents his ex-wife as a hard-boiled socialite, a loveless opportunist who has had an affair and avoids parental responsibility. Played by the dark-haired, bedroom-eyed Windsor, famous as the femme fatale in Force of Evil, Narrow Margin, and The Killing, Anne is coldly brittle. She first appears with a fur wrapped around shoulders, visiting Williams at a saloon and wanting to restart their relationship. "Don't walk out on me twice, Steve," she threatens and promises to take Carol away if he does. He refuses, and she proceeds to manipulate Alice to get her daughter back. As a possible allegorical analog to Chata, Windsor's Anne is a harsh portrait: she wants a man back that she can't have and she threatens to destroy him through his daughter. Offscreen, during the October divorce trial, Chata tried to destroy Wayne by accusing him of having had an extra-marital affair with Gail Russell during the final week's wrap-up of Angel and the Bad Man. Russell, in an interview with Louella Parsons for the Los Angeles Examiner denied the charges, as did Wayne. Interestingly, Trouble Along the Way inverted the later trial narrative.
page 1 of 2

---
Photo Credits: Warner Home Video.