Follow Me Quietly
(directed by Richard Fleischer, RKO, 1949)
Before he turned to big budget Hollywood extravaganzas such as 20,000 Leagues Under the Sea and The Vikings, Richard Fleischer churned out efficient, hour long B-movie thrillers for RKO, such as Armored Car Robbery, The Narrow Margin, and this one, Follow Me Quietly, arguably his best. Based on a story by Anthony Mann and Francis Rosenwald, Follow Me Quietly tells the story of a murderer known only as "The Judge." With no one getting a clear look at the killer, the police put together a mannequin from the bits and pieces of witness descriptions. The detectives begin talking to the mannequin, revealing their frustrations. After they leave the room, we see the mannequin move and we know "The Judge" is underneath, having heard their plans. One of the great B movies.
Gilda
(directed by Charles Vidor, Columbia, 1946)
When we see Rita Hayworth slink her way through "Put the Blame on Mame," we know Glenn Ford is a gonner. It's one of the sexiest, sultriest numbers in Hollywood history, and with it, Hayworth is like a spider drawing a fly into her web. She plays the hedonistic wife of Ford's boss. When the boss is away on business, he leaves Hayworth in Ford's care. But who could blame him? The poor sap. Gilda contains a cop out ending that goes against the world of noir, but the rest of the movie is essential noir.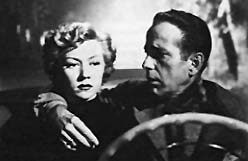 In a Lonely Place
(directed by Nicolas Ray, Columbia, 1950)
Humphrey Bogart, in one of his greatest roles, plays a war veteran who suffers from frequent blackouts. He invites a woman back to his apartment and later that night she's found dead beside a road. A neighbor, Gloria Grahame, tells police she saw the woman leave his apartment. And soon afterwards Bogart and Grahame start to fall in love. But then Grahame keeps finding clues that Bogart may in fact be the killer. Part of the power of this movie comes from never completely answering all the questions it raises. It creates a dangerous world where people have no control over their actions, where they are possibly even responsible for murder but don't know what they've done. In a Lonely Place is an uncompromising thriller that gives us a central character we like--but we don't know for sure whether to trust him.
The Killers
(directed by Robert Siodmak, Universal, 1946)
Gorgeously filmed in deep black shadows and brilliant flashes of light by cinematographer Woody Bredell, The Killers (based on the short story by Ernest Hemingway) gives us a hero who dies in the first few minutes of the movie, gunned down by hired killers. The Swede (Burt Lancaster) doesn't try to run, he calmly accepts his fate. But why? To find an answer, the killers begin to look into his past and uncover a gang of thieves and a lethal femme fatale, Ava Gardner, who pushed Swede into double crossing the gang. The Killers emphasizes the hopelessness of our actions after we commit indiscretions. Swede can't escape. Unlike so many other noir heroes who struggle to survive, Swede sees his fate and waits.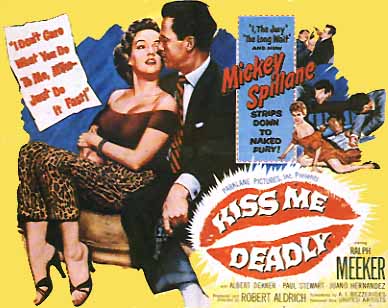 Lurid movie poster for Kiss Me Deadly.
Kiss Me Deadly
(directed by Robert Aldrich, United Artists, 1955)
While many other film noirs gave us men of principles, men with codes of honor, who struggled to survive in a world seething with corruption, Kiss Me Deadly gives us a central character, Mickey Spillane's Mike Hammer (Ralph Meeker), who's part of the corruption. "I'm a stinker," he says. He lives like a playboy, with a flashy roadster ("Va-va-voom!") and a slick pad complete with all the latest gadgets for swinging bachelors. ("I don't care what you do to me, Mike. Just do it fast," says a woman on the movie poster.) After he picks up a woman stranded on a back road (she's only wearing a trenchcoat with nothing on underneath) he gets run off the road. He's semi-conscious as the woman is tortured. After she dies, he senses there's money to be made somewhere, if he could just figure out what the hell is going on. With purely mercenary intentions--he couldn't care less about catching the men who killed the woman--he noses around and discovers the great "what's it"--a mysterious box that glows when it's opened. With unusual camera angles and jarring editing, Kiss Me Deadly was a major influence on the French New Wave. (Go to: Alain Silver on the ending of Kiss Me Deadly.)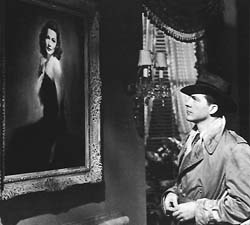 Laura
(directed by Otto Preminger, 20th Century Fox, 1944)
A great necrophilic drama, where Dana Andrews plays a detective who falls in love with a dead woman. He's investigating a murder, where a woman's head was blown apart by a shot gun blast at short range, and while roaming around her apartment looking for clues, he becomes obsessed with her portrait over the fireplace. But in the form of the beautiful Gene Tierney and with the haunting refrains of "Laura" playing over and over, it's easy to see the obsession. Unfortunately for him, a pesky mentor of Laura hangs around, the super-anal retentive Clifton Webb, as well as the weasely boyfriend Vincent Price. Laura is a haunting movie, surprisingly elegant and sophisticated for the film noir form, but falling into the film noir category due to the hopelessness of Andrews' obsession and the magnificent images captured by Joseph La Shelle's photography.
Mildred Pierce
(directed by Michael Curtiz, Warner Brothers, 1945)
Told in flashback form, Mildred Pierce takes an archetypal approach to noir: we already know what has happened but now we get to see the inexorable process by which the murder took place. Played out in scenes drenched in shadows and filmed by the great Ernest Haller, Mildred Pierce gives us a lead character that we like, played by Joan Crawford, but being Joan, she has to suffer. And, boy, does she suffer. Based on the novel by the great James M. Cain, Mildred is ready to sacrifice everything for her daughter: she strives to be a successful businesswoman largely to provide for her daughter. But then she learns the worst as she finds her daughter and her new husband locked in an embrace.
page 1 of 2

---