20 and arranged to release its films through United Artists, having learned the lesson of compromise with the existing power structure.
| | |
| --- | --- |
| Cagney and Sylvia Sidney in Blood On the Sun | Cagney and Annabella in 13 Rue Madeleine |
Cagney Productions released just three films in the five years of its existence, 1943-48, although Cagney made a tidy profit when he "loaned himself out" to Twentieth-Century Fox for 13 Rue Madeleine in 1946. Only the first release, Johnny Come Lately, came close to fulfilling some of the reasons Cagney went independent: set in 1906, it featured Cagney as a warmed-hearted tramp who saves an old woman's newspaper. But after it was finished Cagney had the first of his ongoing problems with the distributor, since he steadfastly refused UA's desire to publicize the film with familiar images of a swaggering, brawling Cagney. No such problem arose with the next Cagney production, for the film itself was full of such images. Blood on the Sun (1945) is a jingoistic, racist (anti-Japanese) film in which Cagney, as a wisecracking, two-fisted newspaper editor, plays a rough version of his old Warner Bros. persona. What prompted the Cagneys to choose as their second film this crude original story, which so strongly contravenes Cagney's professed intentions for going independent, is something of a mystery, since they had already spent a small fortune securing the rights to a number of much more promising literary properties. It was one of these properties, William Saroyan's play, The Time of Your Life, that they chose, undoubtedly because of its "prestige" value, for what proved to be their last independent film. The rather stagebound film they produced did not rate very highly with the critics, and, more importantly, it did disastrously at the box office, barely covering its negative costs. By this point the relationship of Cagney Productions to UA, which had underwritten a fair share of production cost, was untenable. To get out of this fix, the Cagneys returned to Warners. But they hardly returned begging: James Cagney signed a non-exclusive contract specifying he make only one picture a year (at $250,000); Cagney Productions was reconfigured as a production unit on the Warners lot, with the power to acquire properties and supervise scripts; and Cagney was given a good deal more input on the films he made for the studio. The first of these, with Cagney and director Raoul Walsh working heavily on the later versions of the script, was White Heat. Cagney may have been forced back into his old persona, but he raised it to an archetype.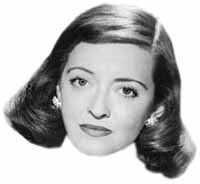 Bette Davis presents an interesting variation on Cagney's "success through failure" story in opposing studio control. Like Cagney, Davis battled Warners the whole time she was there, 1931-48. Besides regularly accepting suspensions, as she fought for better parts (and more money), she filed suit against Warners in 1936, claiming her contract was a form of "slavery." Although she lost, she was, again like Cagney, not punished, but essentially rewarded for her rebellion: directly after, Jack Warner bought her a prize property, Jezebel; in later years, Warners would give Davis her own independent corporation, "B.D. Incorporated," and 35% of the net profits from her pictures to keep her happy and working at the studio's behest. As Thomas Schatz observes, Davis' battles with the studio probably had more significance, especially in terms of reconfiguring her stage image, than Cagney's literally more successful attempts to break free:
Cagney's battles with Warners were well publicized, but Bette Davis's were equally intense and even more significant, not only in terms of her career but of the studio's house style as well. Cagney's victory over Warners [in 1936] was a hollow one; within two years he was back making the same kind of pictures he has sued the company to avoid. Davis, meanwhile, battled the entrenched Warners system and traditional male ethos, managing somehow to reshape her screen image into a star persona that was as powerful and provocative--and distinctly feminine--as any in the industry. (1988, 218)
Moreover, Davis came to be widely and positively regarded as an individual who successfully managed to buck the system. In a study of the popular discourse on Davis in the 1930s, Maria La Place argues, persuasively, for a strong gender reading of Davis as a woman/movie star who "came to signify rebellion against male authority, the demand for control over her work, the struggle for autonomy and artistic integrity. In the context of the Thirties, it is a remarkable kind of signification for a woman" (39).
In the mid-1940s, Davis would become a pioneer of another sort, being the first superstar to sign on with MCA, the talent agency (founded by Jules Stein and headed in Hollywood by Lew Wasserman) that would come to dominate the Hollywood scene in the following decade. In 1948, MCA was finally able to get Davis out of her contract at Warners, making effective use of the typical sort of squabble (here over Beyond the Forest) Davis had been having with Warners about mediocre films since the early 1930s. When Davis had to choose her all-important first picture as a non-contract player--much like Garland with A Star Is Born, Davis had an expectant public waiting for a bravura performance--she chose, very tellingly, the story of an independent, compelling, distinctly mannered stage actress, Margo Channing in All About Eve. (The film was made for Twentieth-Century Fox in 1950.) That many of the film's characters prey upon Margo Channing, exploiting her talent and taking advantage of her independent ways, was not without point as regards Bette Davis' own career.