The popularity of the Spaghetti Western sparked a resurgence in production of American Westerns (several new American Westerns were even filmed in Spain). While some directors tried (unsuccessfully) to imitate the Spaghettis, many great Westerns emerged, taking advantage of the popularity, if not the style, of the Spaghetti Westerns (though it should be noted that Clint Eastwood's High Plains Drifter (1972) is a remake of Sergio Garrone's 1969 Spaghetti Western Django the Bastard). Classics such as Richard Brooks' The Professionals (1966), Tom Gries' Will Penny (1967), and George Roy Hill's Butch Cassidy and the Sundance Kid (1969) all benefitted from the Western's new popularity. Sam Peckinpah, whose The Wild Bunch (1969) set new standards for violence, claimed that the climate created by the Spaghetti Western allowed him to make such a film.
By the early 1970s, as plots became more contrived and characters more ludicrous, the Spaghetti Western began showing signs of age. Characters such as Sartana and Django teamed up with increasing frequency, and originality in story and characterization gave way to tedium. Heroes such as Sartana and Sabata acted more like 19th century James Bonds, with a dazzling array of sophisticated, and ridiculous, weaponry.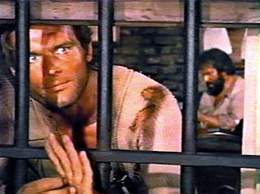 When Trinity (Terence Hill) sees some new gunslingers
ride into town, his palm gets itchy, from They Call Me Trinity.
If the Spaghetti Western needed a shot in the arm, it received it in the form of a pair of comedies directed by former cameraman Enzo Barboni (who contributed to the look of some of the best Spaghettis by Corbucci, Eugenio Martin, and others). Using the pseudonym E.B. Clucher, Barboni made They Call Me Trinity (1970) and Trinity is Still My Name (1974), films which broke box office records worldwide and brought international fame to the films' stars, Terence Hill (Mario Girotti) and Bud Spencer (Carlo Pedersoli, a former Olympic swimmer). A slew of Western comedies followed, such as Barboni's (Clucher) Man of the East (1973) with Terence Hill, Giulio Petroni's Life's tough, Eh Providence? (1972) with Tomas Milian as a stagecoach-driving Charlie Chaplin clone, and Ferdinando Baldi's Carambola (1975), a Trinity ripoff with Paul L. Smith and Michael Coby (Antonio Cantafora).
By the mid-seventies, with martial arts movies and other genres grabbing the hearts and minds of action fans, the Spaghetti Western faded away. Tonino Valerii's well-received parody, My Name is Nobody (1973), "supervised" by Sergio Leone and starring Henry Fonda and Terence Hill, bid a fond farewell to the genre. Set in 1899, this film dealt with the passing of the old ways of the West, with Fonda as the aging gunfighter who gives way to a younger man. The Spaghetti Western hung on for a while and all but disappeared after 1975. Occasionally, though, a new Spaghetti Western pops up to remind us of days gone by. Terence Hill's Lucky Luke (1995) and Troublemakers (1995) and E.B. Clucher's Sons of Trinity (1996) have recently shown up on videocassette.
page 4 of 5


---
Other Western articles in this issue: