Over the years, several books have been written on the subject. Christopher Frayling's Spaghetti Westerns: Cowboys and Europeans From Karl May to Sergio Leone (Routledge & Kegan Paul Ltd. 1981) remains the definitive work on the history of the genre, with an emphasis on the films of Sergio Leone (the second printing of this book is due in 1998 as well as Frayling's as-yet-untitled Leone biography). Another good Leone book is Oreste De Fornari's Sergio Leone, the Great Italian Dream of Legendary America (Gremese 1997). Robert C. Cumbow's Once Upon a Time, the Films of Sergio Leone (Scarecrow Press 1985, 1987) offers a fascinating analysis of the themes and symbolism in Leone's work. For a discussion of individual films, Spaghetti Westerns: The Good the Bad and the Violent (McFarland & Co. 1992) by Thomas Weisser gives credits and synopses of 558 Eurowesterns.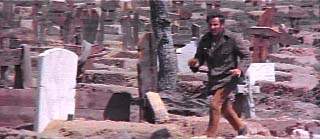 Tuco (Eli Wallach) searches for a grave
in The Good, the Bad and the Ugly.
Regardless of critics' opinions, the Spaghetti Western represents an important and influential genre in film history. New films, such as John Woo's ultra-violent action flicks and Robert Rodriguez's Desperado, are hailed as "modern Spaghetti Westerns." But the images that remain the most memorable don't always involve gunshots and falling bodies. Who can forget Tuco's run through the vast cemetery in The Good, the Bad and the Ugly, a "dead" man's startling appearance in a sandstorm in Return of Ringo, or the black-clad specter dragging a coffin through the muddy streets of a decimated town in Django?
Some of the best dialog ever created for film came out of the Spanish frontier. In Once Upon a Time in the West, when Frank asks Harmonica, "Who are you?" Harmonica replies with a litany of dead men's names. When a gunman tells Sartana, "You look like a scarecrow," the hero replies, "I am your pallbearer." And when the Stranger, upon being given a four-barreled shotgun in The Stranger Returns, quips, "Old man, there'll be hell raised in the village tonight," we know we are in for some action.
But remember, it's also the music. A bell, a whistle and a cracking whip announce the quick death of a bandit; a lonely trumpet plays a dirge for those who are about to die; an electric guitar twangs a foot-stomping riff for the chase; and a man whistles a foreboding tune as a mysterious stranger rides into town.
page 5 of 5


---
John Nudge is an Information Transfer Specialist (Letter Carrier) working in Central Pennsylvania. When not delivering mail, he writes. He has published a number of short stories, articles, and stinging letters-to-the-editor. He currently writes and edits a monthly labor newsletter, and he maintains a Web site -- Spaghetti Westerns in America.
---
Other Western articles in this issue: