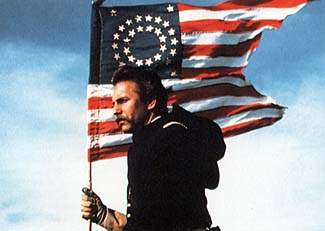 Kevin Costner in Dances With Wolves.
A variety of Westerns then soon appeared, from The Quick and the Dead, an inspired but hyperactive fusion of horror movie sensibilities and Spaghetti Western situations, to Posse, a black Western with a rap soundtrack. The legendary Gunfight at the OK Corral provided the material for two movies, Lawrence Kasdan's ambitious but stodgy Wyatt Earp and George Cosmatos's intermittently dazzling Tombstone.
Even with the minor resurgence of the Western in the '90s, the Western exists in limbo. It still has the power to fan the sparks of imagination, but our distance from the West has weakened its authority. While the West once represented a simpler time in America's history, we now see that the power of the gun (as shown in Unforgiven and Tombstone) could make lawmen just as dangerous as the outlaws. And although justice may have been swift; it was not necessarily fair and at times it was absolutely deadly. As the myths and heroes of the American West fade away, the Western becomes just another genre, a genre that becomes more remote with each passing year.
page 7 of 7


---
---
Other Western articles in this issue: