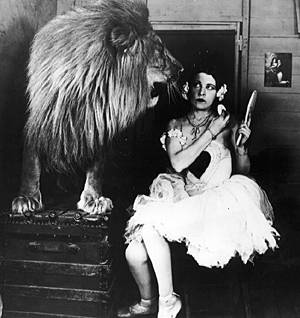 Lions break free of their cages in "Circus Today."
(©1998 KINO ON VIDEO. All rights reserved.)
Volume 7
The Race is On!
Volume 7 of "Slapstick Encyclopedia" features some of the most frantic and dizzying comedies in this entire set. In this volume, you'll see escaped lions, boat races, train chases, and much more.
"Teddy at the Throttle" (1916) stars a young Gloria Swanson and a devilish Wallace Beery. She ends up tied to the railroad tracks, thanks to Beery, while her boyfriend rides to the rescue. But will he reach her in time? This comedy features a famous stunt where the train can't stop in time and it rolls over Swanson--who ducks under the cattle guard in the nick of time.
"Circus Today" (1926) allows Billy Bevan and Andy Clyde free reign at a circus. They play laborers who are called upon to fill in on the trapeze and on the high-dive platform. As can be expected, nothing goes right. Eventually, all the circus lions are running loose.