Evita



[rating: 3 of 4 stars]
directed by Alan Parker
starring Madonna, Antonio Banderas, and Jonathan Pryce
The official Web site for Evita: www.evita-themovie.com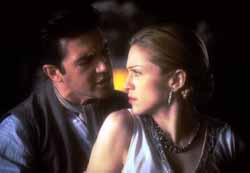 Andrew Lloyd Webber stage productions, such as Evita, always yearn for more than the stage. With their huge rotating platforms and other mechanical contrivances, his plays constantly struggle with the limitations of presenting their spectacle in a theater. Therefore, turning Evita into a movie makes perfect sense. It gives the production much more freedom, as in scenes with crowds or scenes of military revolutions.
Director Alan Parker (The Wall and Fame) makes Evita a non-stop barrage of sights and sounds. The movie hardly slows down for a second, giving us one monumentally designed scene after another. These are some of the largest crowds I've ever seen in a movie. Antonio Banderas serves as our narrator. During the funeral procession that opens the movie, he walks through the crowded streets, giving us his jaded view of Evita, while tanks roll down the streets and flower petals fall like snow. It's an incredible scene, with an exhilarating sweep worthy of a Cecil B. DeMille or a D.W. Griffith.
Parker perfectly captures the epic sweep of the Andrew Lloyd Webber stage production and even improves upon it. His camera swings through the streets and alleyways, always giving us stunning images. The movie breaks down a bit near the end and never really reaches the big emotional pitch that it's aiming for before winding down. But the movie contains several absolutely incredible set pieces, such as Madonna's performance of "Don't Cry For Me, Argentina."
However, the monumental sweep of the movie tends to obliterate the characterizations. Parker certainly brings us up close to the performers, but he also still keeps us at arms length. The hyperactive camera work and machine-gun-paced editing always put the emphasis on the surface gloss while seldomly giving the characterizations freedom to develop. Madonna does well in the lead role, but we never really get to understand Eva Peron. That's not so much a problem of Madonna's performance (which frequently is surprisingly good) than of the filmmaking.
But it's hard to complain about a movie that's filled with such impressive images as is Evita. Parker's genius for filming musical sequences makes Evita a powerful movie, even if it remains somewhat hollow at the core.
page 1 of 7

---
Go to:
---
Photo credits: Hollywood Pictures. All rights reserved.