Shine




[rating: 4 of 4 stars]
directed by Scott Hicks
starring Geoffrey Rush, Noah Taylor, Alex Rafalowicz, Armin Mueller-Stahl, Lynn Redgrave, John Gielgud, and Googie Withers
The official Web site for Shine: www.flf.com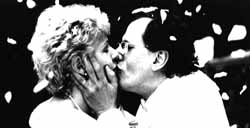 An outstanding movie. Based on a true story, Shine tells the story of a child genius piano player, David Helfgott, who experiences a mental breakdown and retreats into a private world. However, after more than a decade in mental institutions and still seriously affected by the breakdown (he's sort of like a manic, childish Rain Man), the thirties-something Helfgott once again starts playing piano. He may be crippled mentally, but he still has the spirit of an artist.
Shine presents an astonishingly complex picture of Helfgott and his relationship with his father. His father wants him to succeed and he teaches the boy everything he knows about piano playing, but he also resents his boy's success. He loves him, yes, ("No one will love you like me . . . No one," he says) but he also fears his son will fail and he fears his son will succeed. This "no win" situation for David means he is constantly haunted by his father's presence, even when he goes to England (home is Australia) to study music at a conservatory. Just getting away from his father's reach proves a major undertaking, for his father insists he won't let the family be broken up. This tremendously complex picture of father love and father hate doesn't provide any simple psychologizing. And the effect of this love and hate, combined with David's desire to please his father, eventually wreaks havoc on his sanity.
Shine presents one of the most compelling portraits every presented on film of a man's mental breakdown. But the movie is also wonderfully funny. Particularly effective is a scene where the older David wanders into a bar, sits at the piano, and launches into some magnificent playing that stuns everyone. Geoffrey Rush gives an amazing performance as the older David Helfgott and acclaimed German actor Armin Mueller-Stahl gives a great supporting performance as David's father.
But Shine isn't simply an actors' movie. Director Scott Hicks creates some wonderful but unobtrusive images, such as the older David lounging in a pool, with sheet music scattered across the water.
A wonderful and inspiring movie.
page 3 of 7


---
Go to:
---
Photo credits: Fine Line Features. All rights reserved.