Mother



[rating: 3 of 4 stars]
directed by Albert Brooks
starring Albert Brooks, Debbie Reynolds, Rob Morrow, and Lisa Kudrow
The official Web site for Mother: www.paramount.com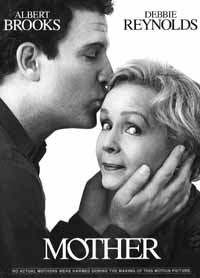 As I left the theater after seeing Mother, a fellow reviewer roared, "It's one big whine!" Well, yeah. That's sort of true: your patience with this movie will probably be tied to your tolerance for whining. But it's also Albert Brooks at his whiny best, where he sets up awkward situations for the characters and then shows their bizarre behavior. At times, watching this movie is almost like watching one of those Lucille Ball comedy routines where everything just keeps going wrong and getting more out of control and you end up watching while wincing and covering your eyes.
Mother doesn't contain the fantastic setting of Defending Your Life or the outrageous antics of Lost in America: it's about as low-key as Brooks gets. It's just a story about a man and his mother. After his marriage breaks up, Brooks moves back in with Mom (Debbie Reynolds). "I'm trying to recapture a feeling," he says. He thinks if he understands why his mother doesn't love him he'll understand why the rest of his life sucks. But the well-adjusted "other" son, Rob Morrow keeps hanging around, deeply disturbed that his position as Mom's favorite is in jeopardy.
Debbie Reynolds delivers one of the best performances of her career as Brooks' mom. She's a slightly spaced-out mother who buys all her groceries in bulk and keeps them in the freezer for eternity. The scene where she offers Brooks some ice cream with a "protective covering" of frost is hilarious.
If you're looking for another Defending Your Life, you might be disappointed. However, if you've seen and enjoyed some of Brooks' earlier movies, such as Real Life or Modern Romance, you'll probably enjoy Mother.
page 6 of 7


---
Go to:
---
Photo credits: Paramount Pictures. All rights reserved.