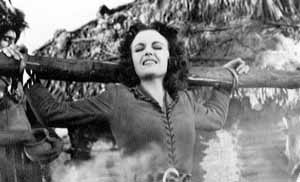 Frances Gifford gets barbequed
in Jungle Girl.
At their best, these cliffhangers were of such destructive power that the audience was left stunned. How could the hero survive? To find out what happened, we only had to return next week to the same theater. And that was the main purpose of the serial--to keep the theater seats filled with paying customers.
To accomplish this aim, serials frequently stretched the truth (much like movie posters frequently promise much more than their movies deliver) and sometimes they plain lied, pushing the heroes into situations where nothing less than divine intervention could save them. Serials frequently banked on their audiences having less than perfect memories. (Remember, these weren't the days of VCRs with their handy rewind buttons.) If a hero were knocked unconscious and carried over a cliff in a runaway stagecoach, next week we would discover that he suddenly awoke just in time to dive to safety. If a hero was trapped in a cave filling with molten rock, the cave would suddenly develop a secret exit.
But the promise supplied by the cliffhanger endings was enough to keep us coming back for more, to see how Flash Gordon could escape the terrible death ray or to see how Spy Smasher could avoid being burnt to death in a fiery explosion or to see how Zorro could avoid being blown to bits in a warehouse. Even while we knew we were being manipulated, the serials always pointed toward a magical, inexplicable brand of resolution and we desperately wanted to see that resolution worked out before our own eyes.
page 1 of 5


---