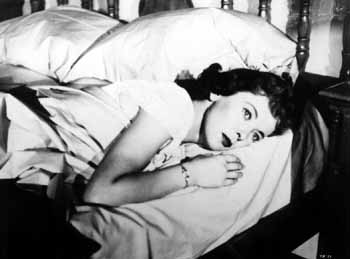 Ida Lupino in The Bigamist.
(©1997 Kino on Video. All rights reserved.)
The Bigamist goes where no movie has gone before: it gives us a bigamist as the central character and manages to make us sympathize with his plight. Edmund O'Brien stars as a salesman who longs to spend time with his wife, but she's a workaholic businesswoman (played by Joan Fontaine) who rarely finds time in her schedule for her husband. While on a sales trip, O'Brien becomes lonely and befriends a waitress played by Ida Lupino (the only time she would direct herself). Soon afterwards, O'Brien calls home and tells his wife that he met someone, all in a teasing tone so that she laughs it off, but underneath the kidding, he was serious. In a fine, subtle piece of acting by Fontaine we see her uneasiness when O'Brien kids her about meeting another woman: we see a quick flash of fear in her eyes, but then she immediately changes the conversation, in a fake chirpy tone, and pretends nothing bothers her. The Bigamist contains very low-key filmmaking compared to the other movies in the "Ida Lupino--Queen of the B's" video series. Most of the camera setups are comparable to what you might find in television dramas of the '50s. But the well-detailed characters make the drama come to life. Ida Lupino's waitress is a tough but compassionate character, much more full of life than Fontaine's Eisenhower-era wife. Significantly, also we discover Lupino is much more fertile than Fontaine--who cannot bear children. This subtle critique of '50s families and the sterility of home life when business becomes more important than family communication makes The Bigamist just as relevant today as when it was made in 1953. And the sympathetic portrayal of all the characters involved reveals Lupino to be a kind filmmaker with a genuine desire to avoid judgmental behavior.