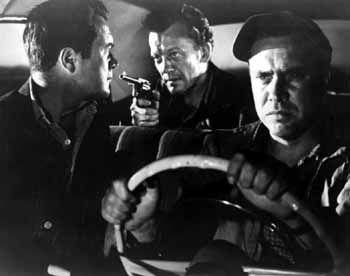 William Tallman gets the drop on Frank Lovejoy
and Edmund O'Brien in The Hitch-Hiker.
(©1997 Kino on Video. All rights reserved.)
The Hitch-Hiker is the most well-known movie in Kino on Video's "Ida Lupino--Queen of the B's" video series. In the past, The Hitch-Hiker has been available in poor video transfers from small video companies. Now thanks to this pristine print, this taut, suspense-filled film noir can be better appreciated. The only film noir directed by a woman, The Hitch-Hiker tells the story of two buddies (Edmund O'Brien and Frank Lovejoy) on a fishing trip. Unbeknownst to them, however, the police are pursing a psychotic killer who hitches rides and then kills the occupants of the cars. (This character is based upon drifter William Edward Cook and the news coverage that followed his 1950 murder spree in the Southwest.) Emmet Meyers (played by William Talman) becomes a forerunner of the killer in Henry--Portrait of a Serial Killer. Without any remorse, he kills and then moves on to the next victim. O'Brien and Lovejoy make the mistake of stopping to pick up a hitchhiker and soon find themselves looking into the barrel of a .38 caliber revolver. Instead of killing O'Brien and Lovejoy, Meyers forces them to chauffeur him down the Baja California peninsula, buying him food and keeping him company. With two against one odds, Meyers would seem to be at a disadvantage. However, even when he's asleep, his lazy eye doesn't close completely. O'Brien and Lovejoy pretend to sleep while they peek up at Meyers, but his eye never closes, paralyzing them from acting. The Hitch-Hiker was photographed by the great Nicholas Musuraca, who also filmed Cat People, The Spiral Staircase, and Out of the Past. No stranger to film noir, Musuraca gives us a world of deep shadows and ominous black spaces. Even the openness of the desert is filled with the oppressive world of darkness. The Hitch-Hiker never quite hits the dramatic peak that it's aiming for and the big climactic scene is a bit of a let down, but this movie is still well-worth seeing for the powerful sense of paranoia and fear created by Musuraca and Lupino's visuals.