While it is tempting to see in the early Westerns of Griffith a bigotry later confirmed by his landmark production Birth of a Nation (1915), it is important to note that Griffith was one of the first directors to openly sympathize with the Native American. Films such as The Indian Runnerís Romance (1909), The Redmanís View (1909), and A Pueblo Legend (1912) explicitly deal with the suffering wrought by white-invaders on Indian tribes, reversing the established myth of Manifest Destiny.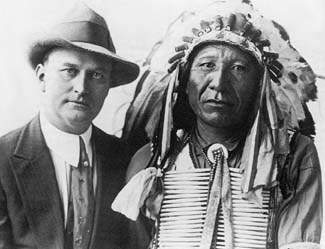 Thomas H. Ince and Indian star William Eagleshirt.
Thomas H. Ince, though less a creative/artistic force than his contemporary Griffith, nevertheless maintained an important role in early film history as one of the first filmmakers to successfully realize an ordered system of labor division within the industry. Working initially as a Western director for Bison 101, Ince moved on to the supervisory role of "director general," overseeing the production of many quality genre entries shot on location in Southern California. As director, his Westerns are marked by a certain off-beat quality, perfectly illustrating the elasticity of the genre and its ability to revise or invert the "official history" of the migration west. In The Heart of an Indian (1912), for example, the cold-blooded massacre of an Indian encampment by white settlers precedes the revisionism of The Searchers (1956) by more than four decades. However, the sentiments of the above film -- and others such as The Invaders (1912) -- are contradicted by many other Ince pictures, including Custerís Last Raid (1912) and The Battle of Gettysburg (1913), which offer more conformist versions of American history.
Like Griffith, Ince too failed to offer a cohesive view of the American west and its taming. But what both filmmakers offered was the full realization of the richness of the myth, its mutable and volatile nature, its ability to channel a variety of views and politics to suit a particular taste or audience requirement. Whether it was the artistry of Griffith or the mercantile acumen of Ince, the result was the same -- the genreís dramatic and commercial potential, as well as its natural plasticity, was firmly established by the early teens.
page 4 of 8


---
---
Other Western articles in this issue: