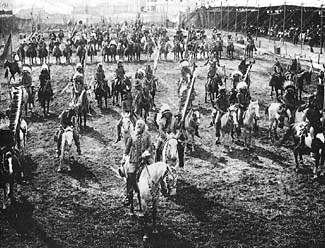 Buffalo Bill Cody's Wild West Show.
Conclusion
The silent Western was unique in its propinquity to the era it chronicled. While later Westerns looked back to a time that had since passed, the early Westerns were being shot current with the closing of the frontier. In 1908, convicted bank robber Al Jennings filmed a recreation of his own most famous hold-up in The Bank Robbery. Jennings would go on to make a career for himself as a director. The overlap between the reality being fictionalized and the mechanisms of that fictionalization was significant. Cow-handlers, sharpshooters, lawmen, Indian Chiefs, even ex-train-robbers and bandits turned initially to the Wild West Shows and then later trickled into the motion picture industry as hired-hands -- acting, writing or directing -- shaping what was once their reality into an eternal national myth. Personally and collectively it was an act of rewriting the past, transforming what at times was senseless and barbaric into something that could be handed down from generation to generation as a lost or fast-vanishing Eden.
All cultures must have a foundational past, a common point of genesis, a mission-statement handed down from wise and ancient ancestors. The Union, recently formed and still in the process of defining itself, realized this need and turned to the Frontier for inspiration. The dime-novels and Wild West Shows began what the silent cinema finished: they defined the modern American by way of the pre-modern American. The silent Western spread that Platonic form to the individual psyches of every American, giving it a specter-like presence which infiltrated and informed every aspect of that young nation. For this reason alone, the silent Western holds an unparalleled position in film and national history.
page 8 of 8


---
---
Other Western articles in this issue: